Sir Stirling Moss behind the wheel of new Gallery Artmobile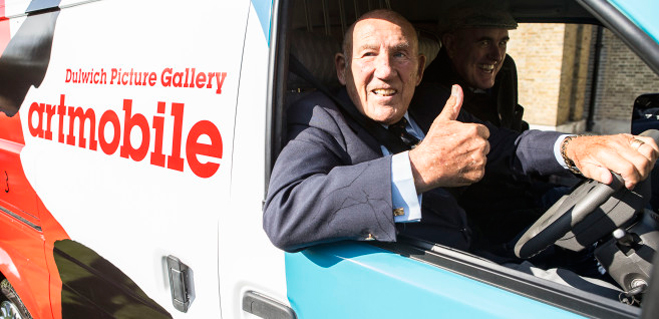 For further information please contact: Press Officer, Louisa Bee
l.bee@dulwichpicturegallery.org.uk / 0208 299 8710
Sir Stirling Moss, racing legend, today launched Dulwich Picture Gallery's Artmobile project, which will transport its multi award-winning education and outreach programme to more sites than ever before. Royal Academician Humphrey Ocean, the artist who designed the vehicle's striking exterior, made the final touches by painting on his signature.
Participants from the Gallery's outreach programmes tore off the paper wrapping to reveal the Artmobile and its unique design. Stirling Moss then took the Artmobile for its first official drive around the Gallery before its inaugural outreach journey.
Stirling Moss said "I've driven over 100 different makes of racing car in my career but this is the first time I've taken to the wheel of a Loadhopper! I'm thrilled to take the Artmobile for its first official spin. The Gallery already runs a hugely important outreach programme but the Artmobile will take this further – how great that such a fun and compact vehicle will transport the creativity you get in the Gallery studio to those who need it most."
An artist and teacher later travelled to a community centre for older people on the Ethnic Communities Programme in Anerley and then to The Well Centre, a youth health centre for young people aged 13 to 19, in Streatham. The Artmobile was packed with exciting art materials for creative workshops at both sites.
The new Artmobile enables the Gallery's successful programme of education and outreach to be extended to an ever growing number of community venues, schools and events. It will transport a Gallery artist, coordinator and top quality art materials to engage people from a variety of backgrounds in creative workshops.
Dulwich Picture Gallery currently works with over 100 community centres, care homes and hospitals through its pioneering 'Good Times: Art for Older People' programme, with a year round free programme of creative activities. Meanwhile, the Gallery's vibrant Youth Engagement programme 'The Creatives' attracts hundreds of harder-to-reach young people every year. The Gallery also runs a wide-ranging public programme of art and craft workshops, family events and lectures.
The Artmobile Project has been generously supported by Béatrice & James Lupton, CBE.
-Ends
Notes to Editors
Education at Dulwich Picture Gallery
• Education at Dulwich Picture Gallery is one of the UK's most renowned and radical arts education programmes, providing a pioneering approach and reaching out beyond the confines of the gallery via a team of specially trained artists and teachers.
• Our innovative education programmes reach over 37,000 adults and children each year all in personally taught sessions and has received numerous awards and commendations.
• Last year Education ran 200 Public Programme courses, 234 schools workshops, 80 schools outreach visits, 65 Community Engagement workshops, and 69 Community Engagement outreach workshops for art, dance and music for hard to reach youth and the elderly.
• Dulwich Picture Gallery does not receive any government funding yet all Community and Reach Out programmes are free of charge.
• Artmobile programmes are free for our Community Engagement partners.
Sir Stirling Moss, OBE, FIE
Sir Stirling Moss OBE became a professional driver in 1948, at the age of 18, racing a Cooper 500. His early career was meteoric, with works drives for both Jaguar and HWM. 1955 was a seminal year; he was signed by Mercedes-Benz and won the British Grand Prix at Aintree.
After Mercedes-Benz withdrew from motor racing following the 1955 Le Mans tragedy, Stirling led the Maserati and Vanwall teams. He raced 107 different types of car, across all classes of motor sport, during his remarkable career. In the late 1950s and early 1960s, he led the changeover to rear engined Formula 1 cars with the Cooper-Climax, achieving the first victory for such a car at the 1958 Argentine Grand Prix. His victory in the 1961 Monaco Grand Prix, racing a Lotus 18 against the more powerful Ferrari's is still regarded as one of the best Formula 1 races ever.
Out of the 375 competitive races in which he finished during his professional racing career, he won an astonishing 212. A near-fatal accident at Goodwood in 1962 ended it all.
Once the decision to retire from professional motoring racing was made, Stirling expanded his commercial interests, amongst these being his property business, which he runs to this day with his family. He continued to race in historic racing, his familiar white patey helmet and blue light weight race suit being a regular feature at historic races across the globe.
Humphrey Ocean RA
Humphrey Ocean was born in Sussex in 1951 and went to art schools in Tunbridge Wells, Brighton and Canterbury. From 1971 to 1973 he was bass player with Kilburn and the Highroads and was elected a Royal Academician in 2004.
In 1984 he painted a portrait of Philip Larkin for the NPG, described by Nick Hornby as 'unanswerable'. Four years later he went to Northern Brazil with the American anthropologist Stephen Nugent and their book 'Big Mouth: The Amazon Speaks' was published by Fourth Estate in 1990. His work is in the British Council Collection, The Whitworth Art Gallery, Imperial War Museum, Wolverhampton Art Gallery, National Portrait Gallery, National Maritime Museum and Victoria and Albert Museum. Exhibitions include Double-Portrait Tate Liverpool 1992, urbasuburba The Whitworth Art Gallery 1997, 'The Painter's Eye' National Portrait Gallery 1999, 'How's My Driving' Dulwich Picture Gallery 2003, Humphrey Ocean 'Perfectly Ordinary' Sidney Cooper Gallery, Canterbury Christ Church University 2009 and 'Here and There' Jesus College, Cambridge, 2011. 'Now and Then' accompanied his Honorary Doctorate from Canterbury Christ Church University 2012.
A series of new portraits 'A handbook of modern life' is on show at the National Portrait Gallery until 1 September 2013. In August his painting Lord Volvo and his Estate, 1982 will appear on billboards across Britain as part of Art Everywhere.
Artmobile Vehicle information
The compact nature of the Artmobile makes it easily manoeuvrable, perfect for city driving and parking, yet it yields a spacious interior with a high roof, allowing easy access to large amounts of top quality creative materials to transport along with a teaching artist and project coordinator. The Artmobile is neat enough to live in the small Gallery car park and enables creative programmes and artists to travel to wherever it can park.
The Artmobile is a DFSK Loadhopper, an economical vehicle that is good value for money. Form and function dovetail in the Dulwich Picture Gallery Artmobile.
Vehicle specifications
Length: 3,980mm Load Capacity: 3.18 m²
Width: 1,560mm Engine Size: 1,310cc petrol
Height: 1,825mm CO2 Emissions g/km: 184