Dulwich Picture Gallery announces appointment of three new Trustees
Professor Evelyn Welch MBE, Chair of Trustees at Dulwich Picture Gallery today announces the appointment of three new Trustees to the Board.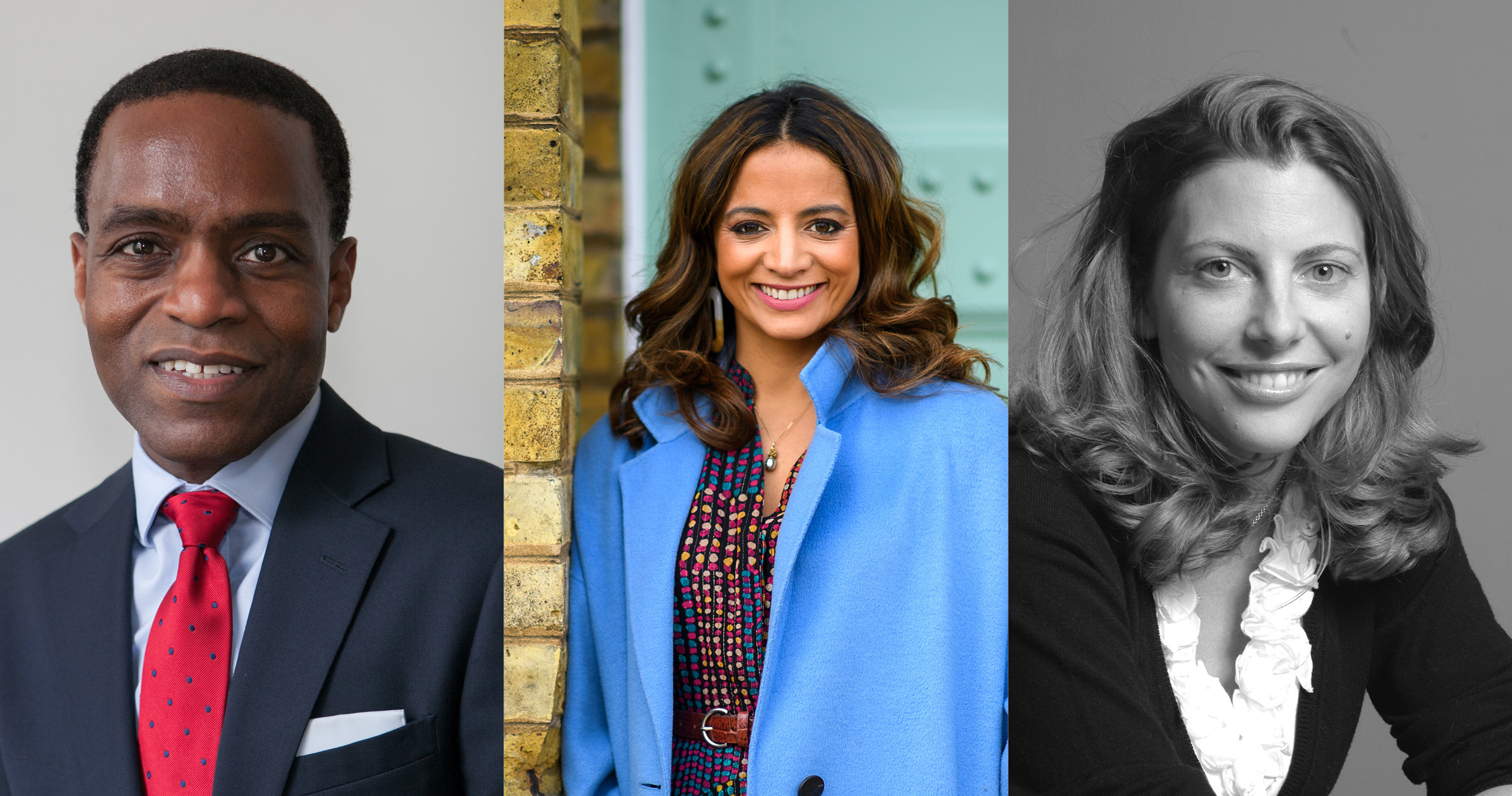 From left; Lawson Crawford, Katy Wickremesinghe and Helen Macintyre will all join the Board from 1 January 2021. 
Lawson Crawford is the Director of Legal Affairs at UCL Business, a subsidiary of University College London. He has many years of extensive expertise as a corporate commercial solicitor in UK and international matters including intellectual property, investment, finance, and dispute resolution, in sectors including technology, life sciences, charities, international trade, media and art and design. He has many years of board and senior management experience, including being a member of UCLB's senior management team, and having served as a trustee and being in leadership roles in the charity sector.  
Katy Wickremesinghe is a British-Sri Lankan entrepreneur and founder of KTW London. A top 5 Luxury Power player (PR Week Powerbook 2020), Katy formed KTW in 2014 to connect the culturally curious, build communities and help individuals, brands and organisations understand the impact of arts, culture and design in our daily lives and commerce.  A committed cultural advocate and philanthropist, Katy serves as: V&A Young Patron, RA patron, Future Contemporaries patron with The Serpentine and as a mentor for The Association of Women in the Arts (AWITA).  She also holds a number of prominent advisory and board roles including: The Line, CogX, The Colombo Biennale and Platform Presents. Katy holds a history degree from Warwick University and a diploma from the Chartered Institute of Marketing. 
Helen Macintyre has worked in the international art world for over 20 years.  After graduating from the University of Edinburgh in 1996 with an MA in History of Art, she worked for Old Master Dealers, Hall & Knight in London and New York and for the Client Advisory team at Christie's before founding Macintyre Art Advisory in 2007.  Helen has helped build a number of private, museum and corporate collections around the world.  Helen sits on the Advisory Board for Apollo Magazine, is a Consultant for the Pilkington Anglo-Japanese Cultural Foundation and is listed in the Spear's 500 Top Ten Art Advisors.  
Evelyn Welch said: 
"I am thrilled that Dulwich Picture Gallery has attracted such a strong group of new trustees, each bringing with them a diverse range of skills from a variety of backgrounds which will be of great value to the work of the Board. The new appointments come at a hugely important time for the Gallery as we work through the challenges of 2020 and look forward towards an exciting future." 
-Ends- 
Notes to Editors: 
About the Trustees of Dulwich Picture Gallery 
The Trustees of Dulwich Picture Gallery work in a voluntary capacity and ensure the future sustainability of the gallery and delivery of its charitable objectives. The three new trustees join seven other members on the Board: Stefan Turnbull (Vice-Chair), Benedict Brogan, Dame Janet Vitmayer DBE, Sian Williams, Dr Joe Spence, Johnny Van Haeften and Crispin Southgate.  
About Dulwich Picture Gallery 
Dulwich Picture Gallery, founded in 1811, is the world's first purpose-built public art gallery. It cares for and displays an outstanding collection of Old Master paintings within Sir John Soane's pioneering architecture. As an independent gallery it pursues its founders' purpose of presenting art 'for the inspection of the publick' while engaging as many people as possible, of all ages and backgrounds, through a creative programme. Entering the gallery space visitors discover a surprising and contemplative experience that encourages the discovery of personal connections with historic works of art – a place to Find Yourself in Art. The Gallery is a registered charity with no repeat government or local authority funding. Income from ticket sales accounts for around 30% of the Gallery's annual running costs with the remainder deriving from investment income, fundraising and commercial activity (venue hire, café and shop). 
Contact
Louisa Bee, Head of Communications
l.bee@dulwichpicturegallery.org.uk