Dou's musical paintings reunited after nearly four centuries apart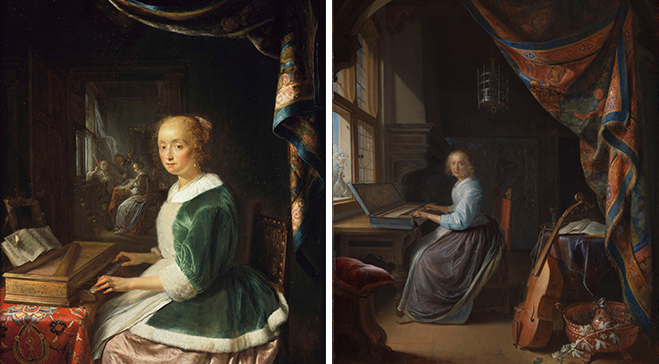 For the first time in over 350 years, two of Gerrit Dou's (1613-1675) finest paintingsWoman playing a Clavichord and Lady Playing a Virginal, both created in c.1665, will be displayed together at Dulwich Picture Gallery. Dou in Harmony (5 July – 6 November), the latest instalment in the Making Discoveries series, will highlight how the Dutch Master interpreted the same subject but with varying changes to its mood and meaning.
 
The two works were first shown together in Leiden in 1665, in an exhibition organised by Dou's patron Johan de Bye; possibly the first ever monographic exhibition of a living artist. While Dulwich's own Woman Playing a Clavichord presents a soft and quiet scene,Young Lady Playing the Virginal depicts a much more hedonistic one, focusing on the pleasures of life. Both, however, communicate Dou's meticulous working style and mastery of composition to draw the viewer's eye into the picture. Displayed together, the intimacy and relationship between viewer and sitter will be revealed and examined.
Evoking the mood of Dou's 17th Century works, the display will be complemented by a contemporary sound installation in the Mausoleum, composed and played on the viola da gamba by Liam Byrne (The Guildhall School, London). Taking its cue from 17th century musical practice, this modern piece aims to evoke the mood of Dou's paintings, inspiring reflection and contemplation on its themes.
 
Following on from Rubens' Ghost and I am Van Dyck, Dou in Harmony is the latest display in the Making Discoveries: Dutch and Flemish Masterpieces series, which showcases four major artists from the Gallery's collection: Van Dyck, Rubens, Dou and Rembrandt. Bringing together recent historical and scientific research, the series reveals intriguing discoveries and celebrates the creative processes of these Dutch and Flemish masters. Each display also draws connections with guest works from other institutions and private collections that have never been seen together before.
The final display in the series is Am I Rembrandt? (8 November 2016 – 5 March 2017), which will focus on the National Trust's recently re-attributed Self-portrait, wearing a White Feathered Bonnet, 1635, taking this as a starting point to examine the Gallery's own works by the master.
 
The Making Discoveries series is curated by Dulwich Picture Gallery's Arturo and Holly Melosi Chief Curator Dr Xavier Bray, with support from Assistant Curator Helen Hillyard. Lenders include the National Portrait Gallery, Hauser & Wirth, the National Trust as well as a number of private lenders.
 
The research for Making Discoveries has been achieved through the soon to be published catalogue for the Dutch and Flemish collection at Dulwich Picture Gallery. It is the first comprehensive catalogue covering this part of the collection and includes over 220 paintings, detailing their provenance and historical significance. It will be available to buy online and from the Gallery shop from the beginning of August 2016.

- Ends
Media Enquiries:
Louisa Bee
Press and Communications Manager
+44 (0) 208 299 8710
l.bee@dulwichpicturegallery.org.uk
Notes to editors

Gerrit Dou
Dou was the most famous of the group of painters known as the Leiden fijnschilders (literally 'fine' painters), who specialised in small-scale paintings full of minute detail and which concentrated on the faithful depiction of different surfaces and textures. Dou was the youngest son of a glass-engraver and from an early age trained in his father's profession; it was this background that doubtless enabled the young Dou to develop his meticulous technique. He began his formal training as a painter in 1628 when he was sent to the studio of Rembrandt, remaining with the master for three years. Dou popularised a type of highly-illusionistic genre painting, filled with still-life details that often carry symbolic meanings. 

Listings Info:
Dou in Harmony
5 July - 6 November

Tickets: 
Included in entry to the permanent collection
£6* Adult
£5* Senior Citizens
Free: Unemployed, disabled, students, children, Friends
*Ticket prices include a voluntary Gift Aid donation
Related Events
Discovery Day: The Dutch Golden Age
Monday 10 October, 10.30am - 6pm
Join a panel of celebrated speakers for a captivating day exploring the Gallery's renowned collection of Dutch and Flemish works. Find out how the Dutch and Flemish Collection came to be at the Gallery and learn more about distinctive paintings and topics surrounding the Dutch Golden Age.
 
LIVE MUSIC: Liam Byrne in concert
Thursday 3 & Friday 4 November, 7.30pm
Inspired by Dou in Harmony, join viola da gamba player Liam Byrne for an evening of period and contemporary music including the world premiere of a new work by composer Josephine Stevenson in response to Dou's paintings. The programme will also include music by Bach, Schenck, Kühnel, and the newly discovered viola da gamba fantasias of Telemann.
Images (from left to right): 
Gerrit Dou, Young Lady playing the Virginal, c.1665, oil on panel, Private Collection, USA, courtesy Johnny Van Haeften, London
Gerrit Dou, A Woman Playing a Clavichord, c.1665, oil on panel, DPG56. By Permission of the Trustees of Dulwich Picture Gallery, London