First European solo show of one of Canada's best-loved artists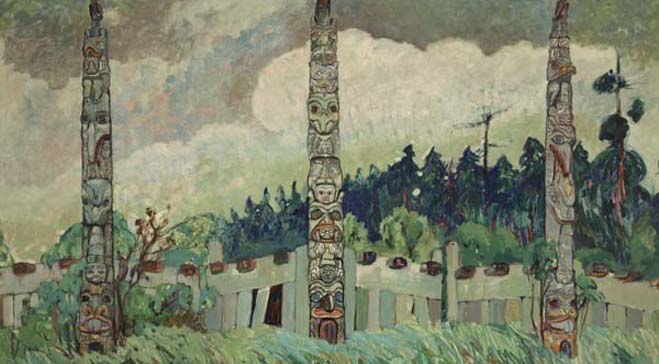 1 November 2014 - 8 March 2015 
Click here to access high-res jpeg images for the exhibition
Dulwich Picture Gallery will present the first major solo exhibition in Europe dedicated to Canadian artist Emily Carr (1871–1945). Gathering together her paintings of the aboriginal settlements she encountered during her travels up the West Coast of Canada and her formidable landscapes and seascapes, the show exemplifies Carr's life-long artistic evolution and the eventual discovery of a freedom in style that secured her position as one of Canada's best loved artists. In challenging circumstances Carr's success as both an artist and a celebrated author challenged the status quo, with Georgia O'Keeffe calling her a "darling of the women's movement."
A pioneer of modernism, fully aware of international movements in art such as Fauvism, Post-Impressionism and Cubism, Carr was fascinated by the indigenous culture of British Columbia. She immersed herself in the people and landscape and drew upon both for inspiration and subject matter. From the Forest to the Sea: Emily Carr in British Columbia presents a focused selection of more than 140 works and indigenous artefacts as well as the recently discovered illustrated journal, Sister and I in Alaska, in which Carr documented her pivotal 1907 trip up and down the Northwest Coast.
The exhibition follows a dramatic journey from darkness to light, beginning with Carr's dark and rhythmic forest scenes including Totem and Forest, a large and brooding work, and culminating with the euphoric skyscapes and seascapes Carr painted towards the end of her career, including Untitled (Seascape). Also on display are her sketches, the 'momentary records' Carr left behind in her trunk. These include landscape studies as well as notations made on her visits to native communities and also museums, where she furthered her study of indigenous art. These compositional sketches reveal the rigour of her process and the determination Carr had not only in researching and documenting but also in practicing and developing her artistic style.
"Working on Canada's West Coast in relative isolation, away from the wellsprings of European culture, Emily Carr's determined progress as an artist, travelling halfway across the world to San Francisco, London and Paris to improve her considerable skills, makes for an inspiring story of driven creativity, against the odds" said Sackler Director and co-curator of the show Ian Dejardin. "Her passionate engagement with both Northwest Coast indigenous culture and European modernism produced a body of work that is unique, rooted in the forests and landscapes of British Columbia – powerful and evocative, her late images of shimmering sea, living forest and ecstatic skies are a pinnacle of Canadian landscape painting. Her story is one of extraordinary determination which we will bring in to view with this show. This exhibition will be a revelation to British and Canadian audiences alike."
Carr's paintings will be accompanied by more than 30 indigenous objects arranged to follow a parallel trajectory from winter feasting to summer activity. The display includes masks, baskets, feast bowls and ceremonial objects by Haida, Kwakwaka'wakw, Nuu-chah-nulth, Salish, Tsimshian and Tlingit makers drawn from the historic holdings of British Museum, Pitt Rivers Museum, Horniman Museum and Gardens and Murderme Collection, London.
Building on the success of Painting Canada: Tom Thomson and the Group of Seven at Dulwich Picture Gallery in 2011, this show will focus on Carr's equally distinctive vision of Canada. Her encounter with the Group of Seven in 1927 validated her artistic mission, with Lawren Harris telling Carr, until then unappreciated as an artist, "you are one of us." With Harris's encouragement and having witnessed the boldness of vision of the Group of Seven artists, Carr was determined to infuse her rendering of British Columbia with equivalent power, emotion and spirituality, and she began to explore her own profound feelings for that landscape - its deep rainforests and vast skyscapes. She painted Totem and Forest which, unlike her earlier paintings, becomes more abstract and stylized, and Indian Church, painted during the most prolific period of Carr's career and distinctly cubist in its faceting of planes and simplification of form.
The exhibition is curated by Ian Dejardin, Sackler Director of Dulwich Picture Gallery, and Sarah Milroy, an art critic and writer based in Toronto. Ian Dejardin has presided over a varied and international exhibition programme and has continued to curate exhibitions, most recently Painting Canada: Tom Thomson and the Group of Seven. Sarah Milroy has served as editor/publisher of Canadian Art magazine and as chief Art Critic of The Globe and Mail, Canada's leading national newspaper. A frequent contributor to a range of periodicals and scholarly catalogues, she is one of Canada's most respected commentators on art. In making their selections of indigenous objects, they were assisted by Haida hereditary chief and master carver James Hart, who also served as a catalogue contributor and co-animator of the exhibition.
From the Forest to the Sea: Emily Carr in British Columbia has been organised by Dulwich Picture Gallery and the Art Gallery of Ontario with the generous collaboration of the National Gallery of Canada, Vancouver Art Gallery and the Royal BC Museum, BC Archives.
 
-Ends

Image: Emily Carr, Tanoo, Queen Charlotte Island, BC, 1913, Image PDP02145 courtesy of Royal BC Museum, BC Archives, Canada
Click here to access high-res jpeg images for the exhibition
Notes to edito­­­rs
Emily Carr (1871- 1945) was born in Victoria, British Columbia. She studied in San Francisco between 1890-92, and in 1899 she travelled to England where she trained at the Westminster School of Art and was involved with the St. Ives group. She lived in France in 1910 where the work of the Fauves influenced the colourism of her work and she came into contact with J D Fergusson and Frances Hodgkins. Discouraged by her lack of artistic success on her return to Canada, she came close to giving up art altogether. However, her contact with the Group of Seven in 1927 resurrected her interest in art, and in the summer of 1928 she made another trip north to visit First Nations villages. In the 1930s she began devoting most of her attention to landscape, particularly the forest, as subject matter. These works express her profound identification with the landscape of the province and her belief that nature was a tangible expression of God.

In 1937, Carr suffered her first heart attack, which marked the beginning of a decline in her health and a lessening of the energy required for painting. She began to devote more time to writing, an activity she had commenced many years before with the encouragement of Ira Dilworth, an educator and CBC executive. Her first book, Klee Wyck, a collection of short stories based on her experiences with Aboriginal people, was published in 1941, a year that also effectively marked the end of her painting career. The book won a Governor General's Award and was followed by the publication of six other books, four of them posthumously. Printed in more than 20 languages, they are today known in many parts of the world. All of them were autobiographical in nature, portraying a girl or a woman of enormous spirit and individuality. Written in a simple, unpretentious style, they quickly won her the popular audience that eluded her more difficult paintings, though in the end it is primarily as a painter that she has won critical acclaim.

Dulwich Picture Gallery
Dulwich Picture Gallery is England's first purpose-built public art gallery, founded in 1811 and designed by Regency architect Sir John Soane. It houses one of the finest collections of Old Masters in the country, especially rich in French, Italian and Spanish Baroque paintings and in British portraits from the Tudor period to the 19th century. The Gallery's permanent collection is complemented by its diverse and critically acclaimed year round temporary exhibitions.
Listings Info:

Title: From the Forest to the Sea: Emily Carr in British Columbia
Exhibition dates: 1 November 2014 – 8 March 2015
Tickets (pre-book online):
Full Price £11 (£10*)
Senior Citizens £9 (£8*)
Unemployed, disabled, students £6 (£5*)
Children and Friends Free
Audio-guide: £3
*Indicates price without gift-aid
Associated Public Events: 

Emily Carr: A symposium
Friday 31 October, 10.00am - 4.40pm
£42, £36 Friends, £32 Students
Includes refreshments and a light lunch
A lively day of talks and discussion to coincide with the opening of From the Forest to the Sea: Emily Carr in British Columbia. Speakers include anthropologists and Canadian art historians addressing the relevance of Carr's work to a modern audience.

Emily Carr: Toss and Sway 
Sunday 9 and 16 November
10.30 – 4pm
£90 / £85
This course will focus on painting techniques and approaches to trees. You will learn colour mixing, working with tone, building space and recession, composition and effective brushwork. 

Swirling Light: In the Footsteps of Emily Carr 
Five Tuesdays from 18 November to 16 December
10am – 12pm
£125 / £120
This course will explore Emily Carr's approach of eliminating extraneous detail to concentrate on the swirling light and shapes of the forest trees and coastal vistas. Create your own creative responses to the exhibition using a variety of media including oil pastel, charcoal, acrylic and watercolour.

Emily Carr: Nature, Form and Mark Making
Six Saturdays from 10 January to 14 February
10am – 1pm
£150 / £145
Investigate Emily Carr's work from still-life installations in the studio using objects reminiscent of her 1930s stylised landscapes including driftwood, houseplants, shells and stones. 
  
What Emily Saw: Visions of British Columbia
Five Tuesdays 13 January to 10 February
10am – 12pm
£125 / £120
This course offers participants an armchair view of the sights Emily Carr would have seen when travelling to the region with her sister, before she returned to her studio to create her brooding forests and swirling seascapes.  Start by making drawings inspired by the source material before experimenting with different media to investigate Carr's approach more fully.
 
Emily Carr: First Nations Basketry
Sunday 11 and 18 January
10.30 – 4pm
£90 / £85
An introduction Basketry inspired by Emily Carr's fascination with the craft and culture of First Nations peoples in British Columbia. 

11-14 years
Spirits of the Forest
Five Thursdays from 15 January to 12 February
4.30 – 6pm
£60
Emily Carr was fascinated by the culture and art of the First Nation people from British Columbia in Canada.  Learn about their connection to nature and coastal forests by exploring a range of fun, craft inspired activities such as batik and tie dye.

Booking details:
Book online at www.dulwichpicturegallery.org.uk
Or by phone on 020 8299 8732