The Colour Palace to transform into 150 planters for local schools and community partners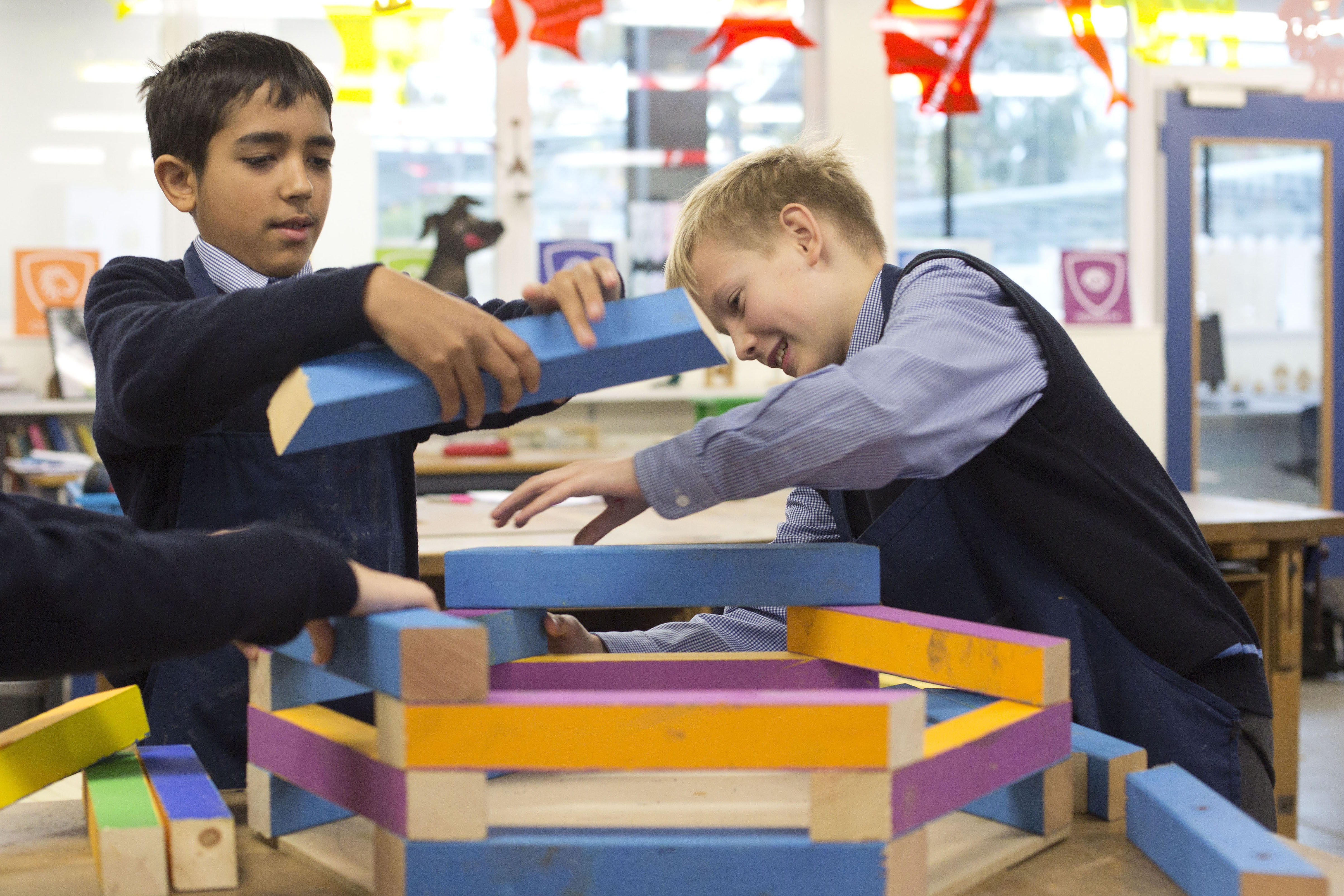 Dulwich Picture Gallery's 2019 Pavilion 'The Colour Palace', created in partnership with the London Festival of Architecture, will be repurposed into over 150 vibrant outdoor planters through a cross-school and community partner project.

The iconic structure, designed by Pricegore and Yinka Ilori, featuring over 2,000 slatted timber louvres in bright, striking colours, has been deconstructed for distribution throughout Southwark, Lambeth, and beyond, to participating schools and community sites.

The timber will be provided free of charge along with an easy flat-pack instruction kit. Schools will be encouraged to maximise the learning opportunities by integrating the construction into Design Technology provision or through collaborative events with parents and pupils.
The modular planters have been designed through making sessions between architecture studio alma-nac and pupils at Dulwich Prep London. The initiative started with pupils taking part in a playground journey to explore what spaces would be suitable for planters. Participating schools will be encouraged to take a similar site-specific approach. almanac will lead a workshop demo during a launch day at the Gallery in early spring 2020.
100% of the pavilion's cladding and structural timber will be recycled for the planters. Confirmed schools include Kingsdale Foundation School, Pilgrims Way, Ark Walworth Academy, Dulwich College, Harris Primary Academy, Dulwich Prep London, Hollydale Primary School, John Donne Primary School, Dulwich Village Infants and Goose Green Primary School.
In addition to a sustainable legacy for the timber, Build Up Foundation - which runs  practical construction projects for young people aged 6-23 years – will use the decking timber and marine ply which has been gifted by the Gallery.

The Colour Palace was a summer highlight for the Gallery, as well as the capital, welcoming over 90,000 visitors. Designed to resonate with multicultural London, the striking structure provided a versatile events and welcome space, and was hailed by critics for its innovative design.

Jennifer Scott, The Sackler Director at Dulwich Picture Gallery, said:

"I'm thrilled that The Colour Palace will have a second life. Nearly 90,000 people enjoyed this year's inventive design here at the Gallery. I hope it will continue to inspire others and become an integral part of South East London."

Tristan Wigfall, Director, alma-nac, said:

"Having gained experience working with a range of schools within Dulwich, we were excited to consider the long-term legacy of The Colour Palace. We saw it as an opportunity for the vibrant identity of the original design to be dispersed into the wider community as a means of 'seeding' further discussions and to provide a series of cultural markers that clearly convey their previous incarnation."
Tamsie Thomson, Director of the London Festival of Architecture said:

"To see The Colour Palace in its new 'upcycled' form being enjoyed by our next generation is really exciting. Not only has it created spatial experiences within its colourful shell, it will go on to occupy other spaces in a completely different way. Its legacy is an important lesson in prioritising a circular economy, not just in the arts but in every sector."
Melanie Mortimer, Head of Design Technology at Dulwich Prep London, said:

"We are grateful and excited to help enable the re-purposing of The Colour Palace. It has already proved a brilliant initiative to help explore ideas around 'line assembly' and 'unit production' to produce the prototype planters. We look forward to working with the other partner schools to help support similar projects and pass on our learnings."
Ends

Notes to editors

The Dulwich Pavilion 2019 was fabricated by RASKL with structural engineering provided in-kind by eHRW. The initiative was generously supported by Arts Council England, Mylands, Gosnells of London, an Art Happens crowdfunding campaign organised with Art Fund, Elle Decoration, Graham Foundation, The Modern House and Lightbox.

Contact

Meg Molloy, Senior Press Officer
020 8299 8715 / m.molloy@dulwichpicturegallery.org.uk

Louisa Bee, Head of Communications
020 8299 8710 / l.bee@dulwichpicturegallery.org.uk
Download full press release and hi-res images