Dulwich Picture Gallery brings creative respite to young carers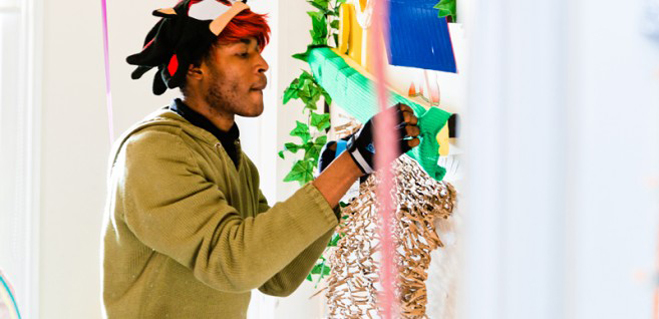 Dulwich Picture Gallery is piloting an exciting new project working with young carers living in Southwark.
A series of engaging creative workshops will offer the young carers a unique opportunity to develop their creativity and innovation in an environment away from their daily pressures and responsibilities.
Action for Children identifies 175,000 young people as carers in the UK and over 22% of these young people care for over fifty hours a week.  The Gallery's new initiative addresses the critical need to provide respite and a chance for personal growth out of the caring environment.
In 2010, around 3,000 children and young people provided unpaid care in Southwark.  Action for Children estimate that the real number is actually much higher, with many young people concealing the reality of their situation  due to the stigma associated with problems such as addiction at home, or fear of their family being split up.  As a result, many of these young people suffer from educational problems, poverty and social isolation.
Most recently participants of Southwark Young Carers in Camberwell, led by artist Tanya Kaprielian, explored ways to reinvent the space they regularly use through building temporary structures and formations inside.  The empty room was soon transformed by dens, pathways, walls, doorways, frames, miniature scenes, all constructed with recycled objects and materials and dictated by the imagination of the participants.
Further sessions are scheduled for Spring 2013 and the project will culminate with an exhibition of participants' work in July 2013.
This project has enabled the Gallery's Youth Engagement programme to strengthen its links with young carers in South London. The Gallery's Community 'Reach Out' strand has been overwhelmed by the positive feedback following its Carers Days in 2011 and 2012 and the Community team are excited to build upon this success through extending its outreach to young people caring in the community.
This programme has been generously funded by Charterhouse in Southwark. The Gallery is extremely grateful for their support to make these workshops and exhibition happen.
-Ends
Notes to Editors
Dulwich Picture Gallery is the home of one of the country's most renowned and radical education programmes, providing a pioneering 'hands on' approach to all visitors, reaching out beyond the confines of the gallery via a team of specially trained artists and teachers. Our innovative education programmes reach over 37,000 adults and children per year, both at the Gallery and across South London.
The Youth Engagement programmeat Dulwich Picture Gallery has been running for over 10 years, bringing creative opportunities and the visual arts to young people in the local area through extended summer projects and evening drop-in art sessions. This partnership has enabled the young people to discover new skills, hidden talents, confidence and a productive way to spend their time.
All Youth Engagement creative art sessions are free of charge.
The programme has its own dedicated coordinator.