Rehearsals underway for 'Synchronised', Dulwich's biggest intergenerational dance project to date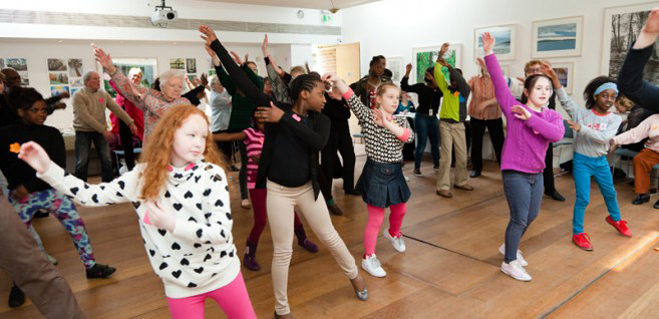 Yesterday saw the first rehearsal of Synchronised, a project with Dulwich Picture Gallery combining forces once again with Rambert Dance Company. Facilitating weekly rehearsals with two local community groups, Blackfriars Settlement and The Salmon Youth Centre in Bermondsey, Rambert will teach participants to perform a piece from their stellar repertoire while taking inspiration from the Gallery's world-famous Collection.
The culmination of 'Synchronised' will be a beautifully-crafted, intergenerational final performance at Asylum, Caroline Garden's Chapel, in Peckham on Monday 10 June 2013. The show will be followed by a documentary film screening of the project at the Gallery in July 2013.
Over the next 8 weeks, a group of 7 – 18 year-olds from the Salmon Youth Centre and older adults from Blackfriars Settlement will work with animateurs from Rambert Dance Company to rehearse the repertoire, 'Hush,' a light-hearted and affectionate celebratory dance of family life choreographed by Christopher Bruce (Winner of Best Modern Choreography, Critics' Circle Dance Award in 2009). Each group will rehearse separately and will be reunited for their final rehearsals bringing their respective dances together for their performance at the chapel.
'Synchronised' was launched at the Gallery earlier this month; older and younger participants came together for the first time to enjoy a taster workshop with music from the 'Hush' repertoire.   Collectively they explored the Gallery, finding links to the themes of family and childhood in 'Hush' in both the Gallery's permanent collection and temporary Murillo exhibition.
The theme of family life also extends to the space where the final performance will be showcased. The chapel in Caroline Gardens sits in London's largest complex of almshouses once known as the Licensed Victuallers' Asylum. In contrast to contemporary connotations, this site was not a place where former pub landlords were hidden away; instead 'Asylum' is used in the older sense, meaning "sanctuary". This tranquil square was a haven for the staff and families who, after a long and loyal service to the brewing industry, could happily live out their days and the 'Synchronised' participants will draw upon images from these residents 'at play' in their rehearsals.
Asylum is also the perfect venue for this dance partnership to reside having been built only 13 years after the Gallery. These sites share much of the same local history: Both were bombed during the blitz, but the Chapel, unlike the Gallery, has never been restored. Miraculously, the original stained glass windows survived the hit and this, together with the plaques along the walls, creates an atmosphere of a reminiscent bygone gallery which the performance will bring to life once more.
This is the third project that has seen Dulwich Picture Gallery and Rambert Dance Company collaborate and the first time that there has been a cross-generational element.
Throughout the project, acapmedia will be recording documentary footage highlighting the strengths and achievements of the partnership between Rambert and Dulwich Picture Gallery. The final documentary short films will record how the participants feel as they go on a journey of discovery across art forms, meeting people who may be of a different generation, but who share the same passion for dance and self-expression.
Michelle Weiner, Community Programmes Manager at Dulwich Picture Gallery, said: "We are delighted to be working again with Rambert and their expertise to inspire visitors to use the Collection in new and exciting ways. This is also a wonderful opportunity to showcase the role culture and heritage organisations can play in creating intergenerational projects that bring together community groups that may not mix otherwise."
Rosie Whitney-Fish, Project Manager at Rambert Dance Company, said: "Rambert are delighted to be continuing our partnership with Dulwich Picture Gallery.  The project will see both partners reaching young people and older adults, through a series of workshops, gallery visits and performance.  This is a really exciting collaboration between both organisations."
Dorcas Olatunji, Performing Arts Teacher from The Salmon Youth Centre, said: "We are very excited to be working on this intergenerational project with Dulwich Picture Gallery and Rambert Dance Company. It is a rare opportunity to be able to work with such a well-known and talented dance company, in collaboration with a prestigious gallery with so much history. We are looking forward to learning and improving our contemporary dance skills, and hopefully the young people will be able to teach our Rambert dance teachers a thing or two also! It's going to be intensive and maybe a bit of a challenge but we say 'bring it on'!"
Tina Johnston, Coordinator for older people's services at Blackfriars Settlement said: "We always encourage intergenerational work and we are extremely grateful to Dulwich Picture Gallery for giving us the opportunity for our older members to take part in the 'Synchronised' project with Rambert."
Aaron Paterson, acapmedia, said: "acapmedia is really excited to be working on 'Synchronised' with Dulwich Picture Gallery. With such a diverse range of participants involved, who are really enthused by the gallery, we're looking forward to sharing their dynamic journey as they begin interpreting the rich artwork with their Rambert animateurs."
-Ends
Notes to Editors
Community Engagement Programmes at Dulwich Picture Gallery
Community programmes at Dulwich Picture Gallery reach out beyond the confines of the Gallery, providing access to those who may face obstacles affecting their engagement.
The programmes provide high quality and free activities on- and off-site for social groups such as older people suffering from isolation, local young people and those with specific needs.
Activities include creative arts workshops, specialised gallery tours and social events. The programme also offers a number of intergenerational projects, which aim to break down barriers between age groups.
Rambert Dance Company
Rambert, the national company for contemporary dance, offers a year-round programme of learning and participation activity throughout the UK for people of all ages and abilities. Other projects with an inter-generational aspect include work with teenager and older adult patients at Chelsea and Westminster Health Charity. For more information: www.rambert.org.uk/learning_participation
The Salmon Youth Centre in Bermondsey
The Salmon Youth Centre in Bermondsey has been reaching out to young people in inner city London for over a hundred years.  We are one of the largest youth centres in the UK with unique purpose-built facilities catering for sports, music, art, performing arts, dance, drama, outdoor climbing, adventure and fitness activities.
At Salmon we provide personal, social, educational and employment development opportunities for young people, and a place where young people can have fun, feel safe and valued, and discover meaning and direction for their lives. We also engage in one-to-one mentoring for the young people and our dynamic programme for disabled young people ("Mixables") received a 'Highly Commended' accolade at the Children and Young People Now Awards 2012.
Salmon is open five days a week, all year round, and we welcome all young people between the ages of six and 26 from all backgrounds. For more information, please visit www.salmonyouthcentre.org.
Blackfriars Settlement
Blackfriars settlement is a voluntary sector organisation serving the community for 125 years. Our services include, Children and young people, Education, Mental health and wellbeing and older people's Services.
Blackfriars Settlement's Older People's services aims to combat the loneliness of older people, to improve their health, encourage life-long learning, increase older people's involvement in the community and improve the home safety of frail, disabled and isolated older people, befriend older people, be an advocate for older people, promote healthy living, contribute to a better quality of life for older people who are marginalised from the wider community. We aim to bring out their talents and ambitions in their latter years. We achieve our aims by providing a variety of services listed below;
Our services for older people include a Befriending project, Day clubs with a full activity programme , a forget-me-not club for people with memory problems, Brushworth Art Group, and much more. Please visit our website for more information; www.blackfriars-settlement.org.uk
acapmedia
acapmedia is a South London based media company, formed in 2010, with a focus on working with cultural organisations. acapmedia is currently working on a long term project for the Horniman Museum and works regularly with the Blue Elephant Theatre.
Asylum
Asylum is an arts organisation based in Caroline Gardens Chapel. It was founded in 2010 by artists Jo Dennis and Dido Hallett. asylum-arts.co.uk