Dulwich Picture Gallery challenging perceptions of people living with dementia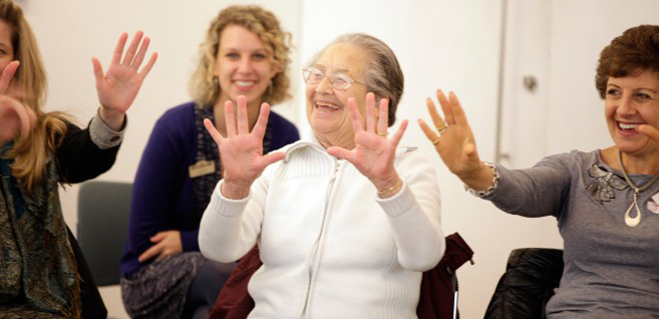 The project, Visual to Vocal: Songs inspired by Old Masters, will culminate in a showcase of eight songs performed in the Great Hall at Dulwich College on 13 December 2012.  Over the course of the project, participants will write lyrics and compose music for their own song cycle inspired by the beautiful world-famous masterpieces of Dulwich Picture Gallery.
The project will bring together older people suffering with early stages of dementia and their carers, A-Level music students from Dulwich College, and a student from the Royal College of Music. The project is led by composer Rachel Leach and director Tim Yealland of English Touring Opera (ETO).
This new collaborative partnership celebrates a shared vision to make life better through art.  Coordinated by the education departments of Dulwich Picture Gallery and ETO, this project brings together the heritage of both organisations, encourages lifelong learning and builds links with communities.
Each week, participants will help compose both lyrics and music of a new song based on one of the Gallery's paintings.  Along with choosing the themes and content of the songs, the participants will think up a name for their song cycle as the project progresses.
The project not only aims to break down barriers between young and old, but confronts stigma and misconceptions associated with dementia; including the myth that people with dementia cannot be creative.
The Gallery's esteemed Good Times: Art for Older People programme has a reputation for excellence in ground-breaking initiatives that push the boundaries of what galleries and museums can achieve. Last year, the Royal Society of Public Health presented Dulwich Picture Gallery with an Arts and Health Award for excellence in this work of enhancing lives through art.
Turtle Key Arts, together with ETO and the Royal College of Music, has developed the project model over a number of years. They are supporting the project at Dulwich Picture Gallery, helping to fulfil their objective to bring creative art (music, movement and singing) to people that might not otherwise get the opportunity.
Dulwich College are proud supporters of intergenerational projects for their students' professional development, in this case as musicians, as well as personal development, through the experience of working alongside older people in the local community. Music students will act as 'Creative Assistants' and will enhance the compositional element of their A-level by working closely with a professional creative team.
Tim Yealland, ETO, said: 'This is a terrific opportunity to create new work with Dulwich Picture Gallery, and to respond musically to the Gallery's incredible collection. It also combines our shared passion for the rich opportunities of working with people with dementia.
-Ends
For further information and images: Madeline Adeane, Press Officer,m.adeane@dulwichpicturegallery.org.uk / 0208 299 8710
Download Press Release (PDF Format)
Download Image (JPEG Image)
Notes to Editors
•Good Times: Art for Older People at Dulwich Picture Gallery addresses the needs of older people, combating loneliness, isolation and inertia through involvement in the arts.
•Good Times offers an enriching menu of art activities at the Gallery. Good Times also 'Reaches Out' to people in care homes, hospitals and community centres
•Sessions are run by dedicated coordinators and led by professional artists, storytellers, actors and trained guides.
•Strands of the Good Times programme include Reach Out Creative Workshops, Intergenerational Workshops and Prescription for Art; an extremely successful partnership with local GP Surgeries.
•The programme is uniquely, free of charge to participants and is at no cost to the tax payer.
•Good Times is a core Education programme and is now in its seventh year at Dulwich Picture Gallery.
•Good Times: Art for Older People has recently won a number of awards for its contribution to Wellbeing and Health and most recently,  a Royal Society for Public Health: Arts and Health Practice Award 201.
•The Good Times programme, evaluated by the Oxford Institute of Ageing in the publication 'This is Living', also received an Arts and Health Research Award.
•The programme was also highly commended at this year's Museums & Heritage Awards in the Education Initiative category.
English Touring Opera is the leading touring opera company in the UK. ETO travels to more regions and to more venues than any other English opera company, touring annually to around 70 theatres and presenting as many as 140 performances per year.  Our aim is to offer opera to everyone, with a varied repertoire of high-quality professional productions and education projects.
ETO's ambitious outreach programme focuses on creative work – in other words, it creates stimulating opportunities for people to create music theatre, in many different ways, bringing diverse abilities and experiences to that creative work and play. Each year there are an average of 170 workshops and performances (involving more than 5000 people of all ages), ranging from full-scale community operas to intimate performances in care facilities. The company has developed a special expertise in collaborating with children with special needs.
Turtle Key Arts produces, manages and devises performance arts projects with a particular emphasis on original and ground-breaking work. Turtle Key Arts' main objective is participation in the arts for all with an emphasis on disabled, disadvantaged or socially excluded people,  providing access to creative arts to those that may not otherwise get the opportunity.
Turtle Key Arts pioneers arts participation projects that identify and fill the gaps in education provision, often charting new territories, for example, with our projects aimed at autistic young people (The Key Club, Turtle Opera) and blind teenagers (Key Moves), dyslexic young people (Key Words). As Turtle Key Arts is independent and flexible, these projects were developed at a time when few other people were working with these groups.