Cornwall's role in the development of Modern British painting revealed in new show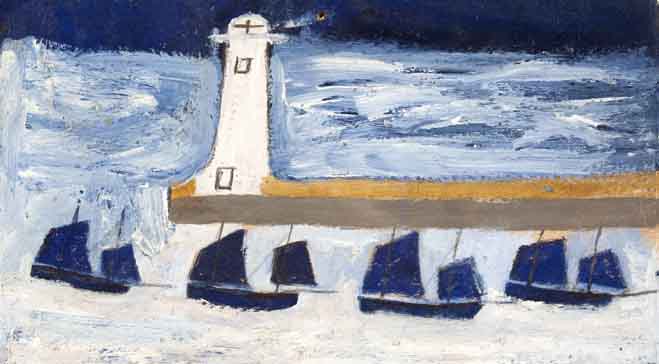 Works by the Cornish self-taught painter Alfred Wallis are currently on display in a major summer exhibition at Dulwich Picture Gallery. 'Art and Life: Ben Nicholson, Winifred Nicholson, Christopher Wood, Alfred Wallis, William Staite Murray, 1920 –1931' reveals how Ben Nicholson's chance encounter with the marine painter in Cornwall sparked a period of intense experimentation that would prove to be momentous not only for him but for his wife Winifred Nicholson and his friend Christopher Wood. 

Curated by Jovan Nicholson, Ben and Winifred's grandson, 'Art and Life' presents over 80 works, including over 20 landscapes, seascapes and still lifes depicting Feock and St Ives. Works By Wallis such as Three Sailing Boats and Seven Ships at Sail in Harbour, which is shown for the first time are displayed alongside paintings by Ben, Winifred and Wood and reveal how the trio were inspired by his use of material, proportion and movement.

Alfred Wallis was born in 1855 and received a modest education. His real schooling was in the hard life of the mariner, and his artistic eye developed at sea watching the wind, waves and sails. He was entirely self-taught and used the simplest materials of ship paint and old card. In August 1928, on a day trip to St. Ives, Ben Nicholson and Christopher Wood chanced upon Wallis when they passed by his house full of paintings on scraps of paper and cardboard.

Unaware of linear perspective, Wallis arranged his objects depicted in terms of relative importance, determining their sizes accordingly. Thus the principal subject of a painting would be the largest object depicted, regardless of where it stood in relation to others. Ben's c. 1930 (Cornish Port) and Winifred's Boat on a Stormy Sea show the couple experimenting with this idea of proportion and with Wallis's use of movement. When viewing Ben's 1928 (Porthmeor Beach no.2) next to Wallis's ship and Lighthouse, you see how Wallis clearly appealed to Ben's romantic valuation of the primitive and childlike. Wood's paintings also take on a new robustness of shape and colour during this period, such as in Herring Fisher's Goodbye.
Curator Jovan Nicholson said: 

"I have curated the show to create dialogues between juxtapositions of pictures and so reveal the affinities between the artists – this is most evident in the section on Cornwall where Ben Nicholson, Winifred Nicholson and Christopher Wood each responded to the meeting with Alfred Wallis in different ways – the most important idea Ben learned from Wallis was how alive and direct his art was, free from self-consciousness and innocently maintaining an intense vision"

The exhibition is curated by Jovan Nicholson, an Art Historian who has worked on various projects with the Henry Moore Foundation, the Barbican Art Gallery and the Russian Museum, St Petersburg. He is a grandson of Ben and Winifred Nicholson. Loans have been secured from major national collections including Leeds Art Gallery, Kettle's Yard, Tate, York Museums Trust, National Gallery of Scotland, Brighton and Hove Museums; and important and rarely seen works from a number of private collections. A major full colour catalogue accompanies the exhibition, comprised of essays by Jovan Nicholson, Sebastiano Barassi and Julian Stair, published by Philip Wilson Publishers. It will present archival photographs, the majority unpublished and coming from private collections.

-Ends
Please subscribe to the Press Site
www.dulwichpicturegallery.org.uk/about/press-media/
Follow @dulwichpress for the latest updates
Or contact
Louisa Bee, Press Officer
l.bee@dulwichpicturegallery.org.uk / 020 8299 8710

Notes to editors
Alfred Wallis (18 August 1855 – 29 August 1942) was a Cornish fisherman and artist. His parents, Charles and Jane Wallis, were from Penzance in Cornwall and moved to Devonport, Devon to find work in 1850 where Alfred and his brother Charles were born. Shortly after Jane Wallis died prompting the family to move back to Penzance. On leaving school Alfred was apprenticed to a basket maker before becoming a mariner in the merchant service by the early 1870s.
Wallis married Susan Ward in 1876 and he became stepfather to her five children. He continued as a fisherman on the Newfoundland run in the early days of his marriage allowing him to earn a good wage. After the death of his two infant children Alfred switched to local fishing and labouring in Penzance.

The family moved to St. Ives, Cornwall, in 1890 where he established himself as a marine stores dealer, buying scrap iron, sails, rope and other items. Following his wife's death in 1922, Wallis took up painting. 

Dulwich Picture Gallery
Dulwich Picture Gallery is England's first purpose-built public art gallery, founded in 1811 and designed by Regency architect Sir John Soane. It houses one of the finest collections of Old Masters in the country, especially rich in French, Italian and Spanish Baroque paintings and in British portraits from the Tudor period to the 19th century. The Gallery's permanent collection is complemented by its diverse and critically acclaimed year round temporary exhibitions.

For over a quarter of a century Dulwich Picture Gallery's award-winning learning and community engagement programmes have reached beyond the Gallery's exhibition programme to bring art to the South London community through outreach initiatives including 'Youth Engagement Programme', 'Good Times: Art for Older People' and 'Prescription for Art'.

Listings Info:
Title: Art and Life: Ben Nicholson, Winifred Nicholson, Christopher Wood, Alfred Wallis, William Staite Murray, 1920 – 1931
Exhibition dates: 4 June 2014 – 21 September 2014
Tickets (pre-book online):
Full Price £11 (£10*)
Senior Citizens £9 (£8*)
Unemployed, disabled, students £6 (£5*)
Children and Friends Free
Audio-guide: £3
*Indicates price without gift-aid 
Further information and high-res images:
Associated Public Events: 
Art and Life: Composition and Colour
Six Saturdays from 7 June to 5 July
Six Saturdays from 20 September to 25 October
10am – 1pm
£90 / £85
Focus on the Art and Life exhibition to create personal pieces paintings inspired by
your own life experience. Experiment with colour and composition referring to
spatial devices to manipulate space like used by the St. Ives artists past and present
with artist Rebecca Allen
Art and Life symposium
6 September 2014
10am-4pm
£42, £36 Friends, £32 Students
A lively debate around the current exhibition: Art and Life 
Art and Life: Silk Screen Printing
Sunday 14 September
10.30 – 4pm
£55 / £50
Create an edition of colour screenprints, inspired by Ben Nicholson's abstract still-life compositions. Working from observation, cut stencils and learn to print through a screen to create a multi-colour prints with printmaker Victoria Browne.

Art and Life: Wood Engraving
Six Saturdays from 20 September to 25 October
10am – 1pm
£90 / £85
Discover this traditional method of relief printmaking and create exquisitely
detailed images. Explore each fascinating stage of the process and use the abstract
paintings of Ben Nicholson as inspiration for your designs with wood engraver
Peter Brown

Art and Life: Discover Still Life
Five Tuesdays from 3 June to 1 July
10am – 12pm
£55/£50
Explore still life with a focus on colour, shape and natural form taking inspiration
from the exhibition Art and Life. Explore a range of drawing and painting
techniques to create dynamic still lifes with artist Jo Lewis

Art and Life: Alfred Wallis - on the Thames
Five Tuesdays from 16 September to 14 October
10am – 12pm
£55 / £50
Take a voyage with Alfred Wallis whose love of boats and the sea was expressed
in his work. Wallis painted on anything to hand, such as cardboard or brown paper. Work in paint and collage with artist Liz Charsley-Jory

Booking details:
Book online at www.dulwichpicturegallery.org.uk
Or by phone on 020 8299 8732
Image: Alfred Wallis, Four Luggers and a Lighthouse, c. 1928, Oil on card, 16.5 x 26 cm, Private Collection, on loan to mima, Middlesbrough Institute of Modern Art