Fragonard's 'Young Woman' revealed as replica in 'Made in China' project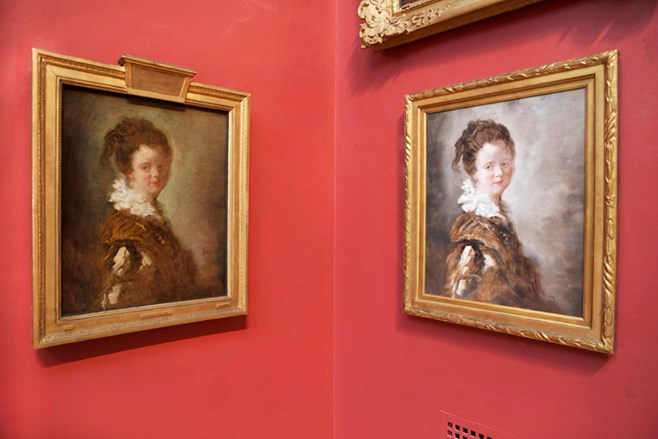 Click here to access high-res jpeg images for the exhibition
The identity of a replica painting, which has been hanging in place of the original at Dulwich Picture Gallery has today been revealed as Jean-Honoré Fragonard's Young Woman. The original 18th- century portrait was temporarily removed on 10 February and replaced with a replica produced in China. The challenge was set  for the public to spot it amongst the permanent collection of 270 Old Master paintings. 
Today the original was put back in its frame and hung beside the replica, exposing stylistic and material differences which set the two paintings apart. The portrait is one of Fragonard's famous Figures de Fantaisie (Fantasy Figures) a series of quickly executed studies intended to showcase the artist's skilful handling of oil paint. Visitors can now return to the Gallery to compare and contrast the two works until 26 July and see how the Chinese artist has interpreted an Old Master painting. How does the brushwork differ? How has the varnished aged on the original? Is the facial expression the same?

Dr Xavier Bray, Arturo and Holly Melosi Chief Curator at Dulwich said:
 
"It has been amazing to see our visitor numbers double in the last three months as enthusiastic 'connoisseurs' took up the challenge of identifying a Chinese replica among our permanent collection. Never before have I seen so many people actively looking at each painting. Now Fragonard's portrait of a young woman has returned to the gallery walls and hangs alongside its modern companion. The visual exercise of comparing and contrasting will demonstrate how exciting it is to engage with an original work of art, but also marvel at the skill of a modern copyist working 5,000 miles away. Curator's tip: focus on the virtuoso daubs and dabs that define the intricate lace and costume and decide for yourself how successfully the copyist replicates an extraordinary sense of originality!"

Nearly 3000 people submitted their vote via iPads in the Gallery, revealing some popular red herrings by Gainsborough, Rubens and other suspects. 10% of those who voted correctly identified Fragonard's Young Woman.
 
Conceptual artist, Doug Fishbone said:
 
"The project has been a very intriguing and eye-opening experience. I'm no conspiracy theorist, but if it leaves viewers with a healthy suspicion that what is presented to them may not be what it seems, and that our experiences can be manipulated in ways we are unaware of or cannot detect, it will have done something quite interesting."

-Ends

For further information contact:
Louisa Bee, Press and Communications Manager
l.bee@dulwichpicturegallery.org.uk / 020 8299 8710
Notes to editors
Made in China: A Doug Fishbone Project
Made in China: A Doug Fishbone Project, was conceived by artist Doug Fishbone and curated by Dr Xavier Bray, Arturo and Holly Melosi Chief Curator at the Gallery. In 2014 they sent a high-resolution digital image to Meisheng Oil Painting Manufacture Co., Ltd., a professional supplier of oil paintings working with over 150 artists based in Xiamen, in the Fujian province of China. Southern China is the world's leading centre for mass-produced works of art, its reputation made famous by Dafen Village whose numerous studios and workshops produce an astonishing five million replicas a year for the global art market.
 
The project explores the nature and importance of the original versus the copy and the role of art as commodity, a subject of increasing importance in our age of global mass production.
 
Doug Fishbone
Doug Fishbone is an American artist living and working in London. He earned a BA from Amherst College in the US in 1991, and MA in Fine Art at Goldsmiths College, London in 2003. Selected solo exhibitions include Tate Britain, London (2010-11), Rokeby, London (2010-11, and 2009), Gimpel Fils, London (2006) and 30,000 Bananas in Trafalgar Square (2004). Selected group exhibitions include Rude Britannia: British Comic Art, Tate Britain (2010), Busan Biennale, Busan, South Korea (2008); Laughing in a Foreign Language, Hayward Gallery (2008), London; British Art Show 6, Newcastle, Bristol, Nottingham and Manchester (2006). He performs regularly at both international and UK venues, including appearances at London's ICA and Southbank Centre. 

Dulwich Picture Gallery
Dulwich Picture Gallery is the world's first purpose-built public art gallery, founded in 1811 and designed by Regency architect Sir John Soane. It houses one of the finest collections of Old Masters in the country, especially rich in French, Italian and Spanish Baroque paintings and in British portraits from the Tudor period to the 19th century. The Gallery's Permanent Collection is complemented by its diverse and critically acclaimed year round temporary exhibitions.