Dulwich Picture Gallery announces 2016 programme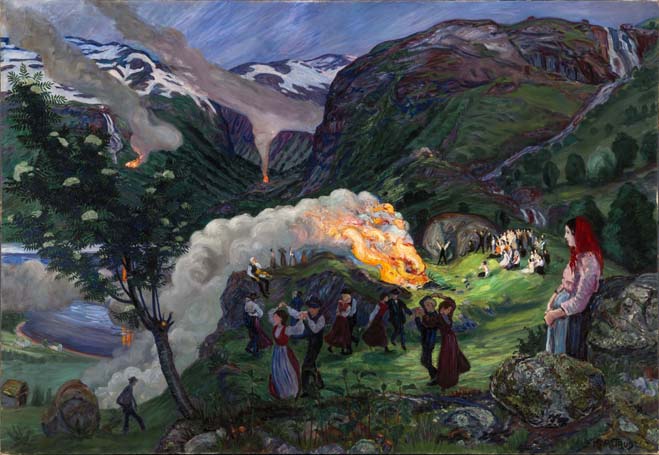 Ian A.C. Dejardin, The Sackler Director of Dulwich Picture Gallery, today announced details of the Gallery's revelatory 2016 programme which will include the first major exhibition outside Norway of paintings and prints by the profoundly innovative Norwegian artist Nikolai Astrup; an extensive survey of studies and completed masterpieces by the Slade School artist and champion of the decorative painting revival, Winifred Knights; and a look at Adriaen van de Velde, a great landscape painter and one of the best draughtsmen of the Dutch Golden Age. Throughout the year, Dulwich will also celebrate the Dutch and Flemish masters in its collection with new research and guest works showing a new side to four major artists in the permanent collection.
Ian A.C. Dejardin, The Sackler Director of Dulwich Picture Gallery, said:
"Nikolai Astrup, one of Norway's best known and loved artists, will light up Dulwich's exhibition rooms with his vivid paintings and prints of western Norway - the stillness of long Nordic nights, the dazzle of midsummer-eve bonfires – his landscapes are full of magic, with a mythical edge. Then, Winifred Knights – an exhibition devoted to one of the great 'lost' British artists of the 20th century, a huge talent whose work The Deluge was hailed as the work of a genius. Back a few centuries to Holland's Golden Age and to one of that sumptuous period's greatest draughtsmen, Adriaen van de Velde, a painter of scintillating sundrenched landscapes. As a complement to this eye-opening programme, the Gallery will also showcase guest loans and new research, looking beneath the surface of well-known works in our permanent collection."
The first exhibition of the year will introduce one of Norway's leading twentieth century artists to a UK audience with a major retrospective of work by the prolific printmaker and landscape painter, Nikolai Astrup (1880-1928). Painting Norway: Nikolai Astrup (5 February – 15 May 2016) will present over 100 unique paintings and prints by an artist who dedicated his career to documenting the landscape and tradition of his home in the mountainous reaches of western Norway. It traces a career rooted in childhood memory that ended with his premature death at the age of 47, revealing a fascinating life and an artist whose mission throughout was to develop a vibrant visual language unique to Norway.
The Gallery's major summer exhibition, Winifred Knights (8 June – 18 September 2016), will reintroduce the once-celebrated Winifred Knights (1899-1947) as one of the most original artists of the twentieth century. Her masterpieces will come together for the first time since they were created along with nearly 120 intricate preparatory studies, providing a true insight into Knights' artistic process. Knights rose to critical acclaim at the then male-dominated Slade School of Fine Art, winning several awards and a highly regarded scholarship at the British School at Rome. She saw the potential for recognition in a post-suffragette world and as such her work embodies the fighting spirit of women artists at the time.
In the autumn the Gallery will stage the first ever major show of landscapes by master painter and draughtsman of the Dutch Golden Age, Adriaen van de Velde who rose to posthumous fame in the eighteenth and nineteenth century for his tranquil Dutch Italianate landscapes. Adriaen van de Velde: Master of the Dutch Golden Age (12 October 2016 - 15 January 2017) brings together some 60 works including the artist's many exquisite preparatory studies, offering a rare glimpse of a 17th century Dutch landscape painter's process, from conception to completion.
Throughout the year, Dulwich will shine a spotlight on the Gallery's Dutch and Flemish collection with new research, guest loans and technical analysis revealing the working methods of four master painters; Van Dyck, Dou, Rubens and Rembrandt. The project launches with I am Van Dyck, a striking display of the National Portrait Gallery's recent acquisition, Van Dyck's Self Portrait, which will be juxtaposed alongside work by renowned contemporary artist Mark Wallinger to explore different notions of self-portraiture. The series will continue into 2017, drawing connections with guest works and with X-rays and new interpretation brought together to celebrate the creative process of key figures in the history of art.
-Ends
- Notes to Editors -
Dulwich Picture Gallery is one of the world's first purpose-built public art galleries, founded in 1811 and designed by Regency architect Sir John Soane. It houses one of the finest collections of Old Masters in the country, especially rich in French, Italian and Spanish Baroque paintings and in British portraits from the Tudor period to the 19th century. The Gallery's Permanent Collection is complemented by its diverse and critically acclaimed year round temporary exhibitions.
For over a quarter of a century Dulwich Picture Gallery's award-winning learning and community engagement programmes have reached beyond the Gallery's exhibition programme to bring art to the South London community through outreach initiatives including 'Youth Engagement Programme', 'Good Times: Art for Older People' and 'Prescription for Art'.

Media Enquiries:
Louisa Bee
Press and Communications Manager
+44 (0) 208 299 8710
l.bee@dulwichpicturegallery.org.uk
Image: Nikolai Astrup, Midsummer Eve Bonfire, Before 1915, Oil on canvas, 136 x 196 cm, The Savings Bank Foundation DNB/The Astrup Collection/KODE, Bergen Art Museum, Norway. Photo © Dag Fosse / KODE