Dulwich shows the positive impact of dance and art through intergenerational project as part of London's Creativity and Wellbeing Week 2013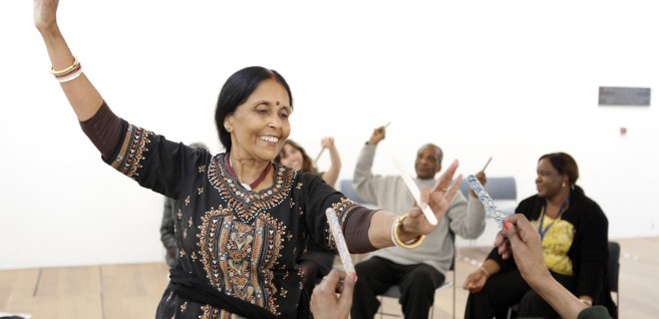 Dulwich Picture Gallery is delighted to be participating in this year's Creativity and Wellbeing Week, supported by the London Arts in Health Forum.  Following the success of last year's involvement, Dulwich Picture Gallery will work with leading practitioner, dancer and Artistic Director of Chaturangan Indian Dance Company, Bisakha Sarker, and her artistic team for an intergenerational dance and art project.
Year 4 students from Bessemer Grange School will  join a local group of older people from the Gallery's pioneering Good Times: Art for Older People programme in a creative workshop decorating umbrellas as well as learning a dance based on the theme of 'Shelter and Protection' to perform together onWednesday 19 June 2013 at Dulwich Picture Gallery.
The Gallery's permanent collection is a starting point, with emphasis on paintings which deal with themes of 'caring and protection'. The dance also takes inspiration from Cathy Greenblat's book of photographs, Love, loss and laughter.  The participants will create umbrellas to symbolise reaching out and protecting a loved one. Choreographed movements will incorporate umbrellas to facilitate interaction between the generations, inviting each other to dance together under the shelter of their respective customised umbrellas.   The workshops, led by Bisakha Sarker and artists, dancers and musicians, will culminate in a public performance in the Dulwich Picture Gallery Gardens.
Bisakha Sarker said: "I am forever grateful to Dulwich Picture Gallery and their creative vision for giving me this opportunity to grow, to find new ways to connect with their Good Times group of senior citizens, combining dance, music and visual art. The shared feeling of joy and friendship can only be experienced, words can hardly explain it."
Dulwich worked with Bisakha during last year's 'Ragamala Painting from India: Poetry, Passion, Song' exhibition. This uplifting series of Indian dance workshops with older people was the perfect complement to the Good Times programme, promoting healthy and active ageing.  Some participants had dementia, arthritis and other age-related illnesses, and the sessions were a marvellous opportunity to show how dancing has a positive impact, both physically and mentally.
A participant from Blackfriars Settlement said: 'I came in feeling cold and wet and went away feeling warm and revitalised.  Everyone was so friendly and welcoming.  Even with my hands handicapped I felt able to participate."
As part of last year's inaugural London Creativity and Wellbeing Week, Dulwich Picture Gallery ran Harmonious Notes: Drawing through Music.  Community group coordinators took part in practical drawing exercises led by Canadian Artist in Residence Liz Charsley-Jory, accompanied by live musicians.
Dulwich will build on last year's achievement through this intergenerational project, a very successful and important aspect of Dulwich's community work, encouraging lifelong learning.
-Ends
For further information please contact Emily Christou, e.christou@dulwichpicturegallery.org.uk / 020 8299 8753
Notes to Editors
Community Engagement Programmes
Community programmes at Dulwich Picture Gallery reach out beyond the confines of the Gallery, providing access to those who may face obstacles affecting their engagement.
The programmes provide high quality and free activities on- and off-site for social groups such as older people suffering from isolation, local young people and those with specific needs.
Activities include creative arts workshops, specialised gallery tours and social events. The programme also offers a number of intergenerational projects, which aim to break down barriers between age groups.