New film and print collaboration with former Maccabees frontman, Orlando Weeks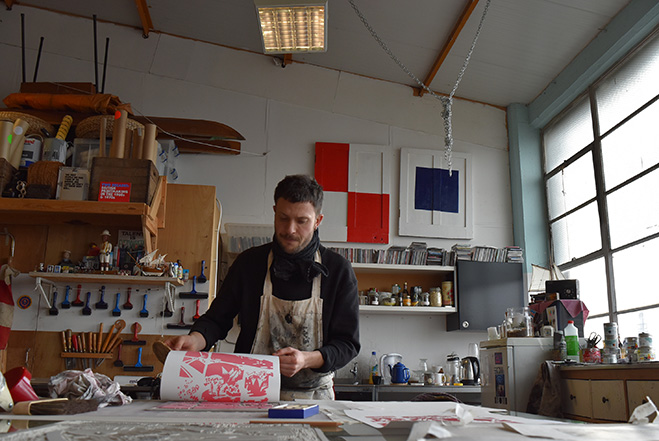 An exciting new collaboration between Dulwich Picture Gallery and Orlando Weeks will see the former Maccabees frontman-turned illustrator and author, create a limited edition print to coincide with the Gallery's forthcoming exhibition of the celebrated artist and designer, Edward Bawden RA CBE (1903-89).

The Gallery will produce a short film that follows Weeks as he works with East London-based artist printmaker, Alex Booker, to create his own print and delves into the various processes involved in linocut printing – a technique that Bawden mastered during his career. Weeks will also reveal the elements of Bawden's style that have particularly inspired his own practice as an illustrator.

Weeks, who studied illustration at Brighton University has cited Bawden as a key influence in his work and said:

"It's been a treat trying to better understand one of the printmaking aspects of Bawden's practice by attempting to make a print myself. Bawden bounced from discipline to discipline, managing to cultivate a nauseatingly envious style of his own in each one. He could do funny but didn't rely on his humour and he could do poignant without becoming sentimental.  He refused to be bound by what others considered high or low art - up and down that "scale" he made work that gives me great pleasure to look at over and over again."

The film will be available to watch on the Gallery's website from the first week of June. A limited run of Weeks' print, which depicts the Roundhouse in Camden, will be for sale online at www.orlandoweeks.com and in the Gallery's shop throughout the duration of the Edward Bawden exhibition, which runs from 23 May – 9 September 2018.

- Ends

Notes to eds:

Media enquiries and interview requests: Louisa Bee, Press and Communications Manager:
l.bee@dulwichpicturegallery.org.uk / 020 8299 8710

Orlando Weeks
Orlando Weeks studied Illustration at Brighton University before spending over a decade in the band The Maccabees. Since the group's decision to call it a day in 2017 he has released The Gritterman. Published by Penguin, the book is written and illustrated by Weeks and is accompanied by an album of original music with narration by Paul Whitehouse. 

Alex Booker
Alex Booker is a leading print artist, based in the Limehouse Arts Foundation, where he runs the Booker Print House. His work explores the properties of ink and wood, and is often influenced by his long-standing fascination with the sea, landscape and fictional narrative. Alex has exhibited his print artworks internationally including the Royal Academy of Arts: Summer Show 2014 and worked with the likes of Ma-tt-er and PATTERNITY.

Edward Bawden at Dulwich Picture Gallery
23 May - 9 September 2018
Edward Bawden RA CBE (1903-89) is widely respected as an innovative graphic designer, book illustrator and printmaker, best known today for his monumental linocuts and for the witty designs he made for companies like Shell and Fortnum & Mason. The forthcoming exhibition at Dulwich Picture Gallery will be the most wide-ranging exhibition since Bawden's death, and the first to look at every aspect of his 60-year career, showcasing a number of previously unseen works from the Bawden family's private collection. 

Related events

Botanical Linocuts
9 June
4–9pm
Tickets will be on sale early May
£45 including a plant from Pearspring and beer from Canopy Beer Co
Bawden's artistic, intellectual and practical interest in gardens had a significant influence on his work. Explore these themes for yourself as we focus on Bawden's foliage and plant imagery in this half-day linocut printmaking workshop and exhibition tour. Discover more about Edward Bawden's linocut technique and make your own Bawden-inspired print to take home. Learn about the tools, inks and techniques in a workshop with printmaker Alex Booker, and enjoy an exclusive curator's tour led by James Russell. Your ticket includes a plant to use as your muse (and to take home) courtesy of Pearspring and craft beer provided by Canopy Beer Co.