Dulwich Picture Gallery announces 2015 programme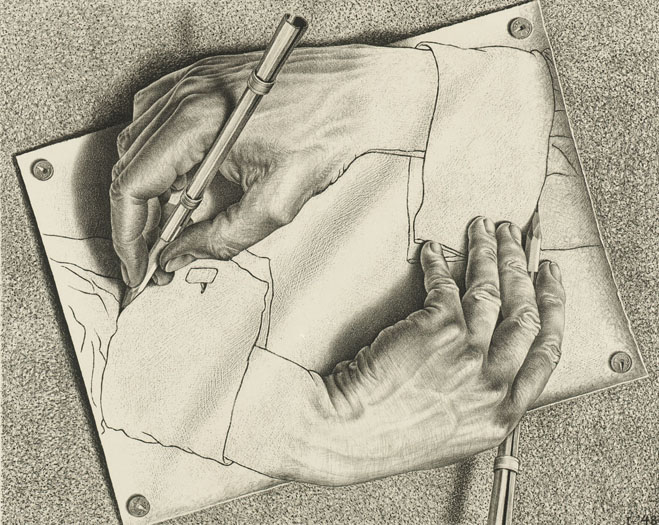 M.C. Escher, Drawing Hands, 1948, Lithograph, 28.2 x 33.2 cm, Gemeentemuseum Den Haag. All M.C. Escher works copyright © The M.C. Escher Company B.V. -Baarn-the Netherlands. All rights reserved. www.mcescher.com
Ian A.C. Dejardin, The Sackler Director of Dulwich Picture Gallery, today announced details of the Gallery's 2015 programme which will include an intervention in the Gallery's permanent collection offering a provocative challenge to the public; an extensive survey of watercolours by the celebrated artist and designer Eric Ravilious; an exhibition of drawings by the French Romantic painter Pierre-Paul Prud'hon; and a look at the astonishing prints of the Dutch graphic artist, M. C. Escher.
Ian A.C. Dejardin, The Sackler Director of Dulwich Picture Gallery, said:
"Made in China will provoke a new way of looking at our collection - will you spot a replica shipped from China and hung in place of the original? In our exhibition spaces we bring you an artist who captured England between the wars like no other - Eric Ravilious' watercolours conjured up a nostalgic yet incisive view of England through peace and war. Next up, M. C. Escher, an artist with equal conviction, whose impossible staircases and eye-watering tessellations have adorned students' walls for decades. But Escher's work is far more than novelty – Dulwich's exhibition will be both a treat and an education: art meets maths…and gets on like a house on fire. Meanwhile we will have a display of exquisite work by Pierre-Paul Prud'hon, draughtsman to Napoleon Bonaparte."
The year will start with a unique intervention that questions the significance and value of the 'original' work of art. 'Made in China: A Doug Fishbone Project' (10 February – 26 July 2015), will see one of the paintings in Dulwich's collection removed from its frame and replaced with a replica, the identity of which will be concealed. Conceptual artist Doug Fishbone has selected the work and commissioned a replica from one of China's numerous exporters of handmade oil paintings. In a Gallery context it is entirely plausible that such a replica, presented as an original, be taken as such without question - where then does a painting's identity, value and authorship reside? The identity of the replica will be revealed in April 2015 when it will hang alongside the original for three months.
The Gallery's major summer exhibition, 'Ravilious' (1 April – 31 August 2015), will be the first show to thoroughly examine Eric Ravilious' output as watercolourist, a medium which he used to capture the atmosphere of peacetime and wartime England as well as to preserve the fleeting passage of time. Curated by James Russell, a leading expert and author on the artist, the exhibition will showcase around 100 watercolours allowing us to assess Ravilious' achievement as an artist of supreme skill. Spanning his short but prolific career between 1925 and 1942, this exhibition, the first to focus on his watercolours, will reveal his artistic continuity and show how he integrated rather than abandoned his instincts and ideas when appointed as a war artist in 1940.
In June, Dulwich will stage the first major UK display devoted to the painter and draughtsman Pierre-Paul Prud'hon (1758-1823), who, through his distinctive and unconventional vision, emerged as one of the most exceptional talents working in post-Revolutionary Paris. Coinciding with London's celebrations of the 200th anniversary of the Battle of Waterloo, 'Prud'hon: Napoleon's Draughtsman' (23 June - 15 November 2015), will present a selection of 13 works on paper, celebrating Prud'hon as court artist to Napoleon and Joséphine Bonaparte. 
Whether sketched quickly or finished to perfection, the drawings provide revealing insights into Prud'hon's working processes, exploring the constant experimentation that led to the unique blend of Romantic expression and Neoclassical forms that marked him out amongst his contemporaries.
In the autumn the Gallery will stage the first major exhibition in the UK dedicated to the work of the Dutch graphic artist M. C. Escher. Most famous for his 'impossible constructions' and explorations of infinity and paradox, Escher was one of the most famous artists of the 20th Century. His architectural, mathematically accurate imagery is now part of our common visual language. Showcasing nearly 100 works from the collection of the Gemeentemuseum Den Haag in The Netherlands, 'M. C. Escher' (12 October 2015 – 17 January 2016) provides an opportunity to rediscover an imaginative artist of exceptional technical ability, revealing the influence of his extensive travel on his work and his supreme skill as fine artist and master draughtsman.
-Ends
- Notes to Editors -
Dulwich Picture Gallery is the world's first purpose-built public art gallery, founded in 1811 and designed by Regency architect Sir John Soane. It houses one of the finest collections of Old Masters in the country, especially rich in French, Italian and Spanish Baroque paintings and in British portraits from the Tudor period to the 19th century. The Gallery's Permanent Collection is complemented by its diverse and critically acclaimed year round temporary exhibitions.
For over a quarter of a century Dulwich Picture Gallery's award-winning learning and community engagement programmes have reached beyond the Gallery's exhibition programme to bring art to the South London community through outreach initiatives including 'Youth Engagement Programme', 'Good Times: Art for Older People' and 'Prescription for Art'.

Media Enquiries:
Louisa Bee
Press Officer
+44 (0) 208 299 8710
l.bee@dulwichpicturegallery.org.uk