Tom Thomson and the Group of Seven inspire new Artist in Residence exhibition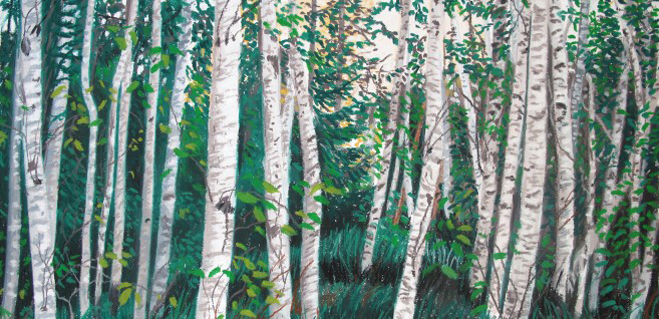 Dulwich Picture Gallery is proud to present Canadian Artist in Residence Liz Charsley-Jory in a new exhibition: Bright Land: West of the Rockies, South of the Thames, inspired by the Gallery's 2011 blockbuster show 'Painting Canada: Tom Thomson and the Group of Seven'.
Open to the public 25 March – 19 May 2013 this exhibition will showcase some of Charsley-Jory's most colourful landscape work.
Liz was appointed as the Gallery's first Canadian Artist in Residence to coincide with the exhibition 'Painting Canada: Tom Thomson and the Group of Seven', the fourth most popular exhibition in the Gallery's 200 year history.
'Bright Land' will feature work created by Charsley-Jory this year along with a selection of exceptional works by students of all ages from throughout the year's programme of courses and events which she led and coordinated, including her two sell-out Masterclasses as part of the Gallery's Public Programmes strand.
The year's successes have helped sustain interest in Canadian art well beyond 'Painting Canada' and will continue the Canadian theme in advance of the hotly anticipated Emily Carr exhibition scheduled for 2014 at Dulwich Picture Gallery.  It is hoped that the success of this residency will pave the way for future Canadian Artist in Residence posts at the Gallery.
Gillian Wolfe, Director of Learning and Public Affairs said: "Liz was the perfect fit for the Gallery's education programmes.   She offered a refreshing approach to teaching and became an integral part of the Community Engagement teaching team."
The role involved working with adults and young people enrolled on the Gallery's Public, Youth Engagement and Schools programmes as well as with older people on the award winning Good Times Programme. The residency provided an opportunity for advancement in practice and to celebrate and promote the work of Canadian art.
Previous resident artists include Michael Kenny RA, Humphrey Ocean RA, Eileen Cooper RA, Graham Crowley and Hurvin Anderson.
-Ends
Notes to Editors
About Dulwich Picture Gallery
Dulwich Picture Gallery is England's first purpose-built public art gallery: it was founded in 1811 when Sir Francis Bourgeois RA bequeathed his collection of Old Master paintings "for the inspection of the public". The Gallery was designed by Regency architect Sir John Soane and houses one of the country's finest collections of Old Masters, especially rich in French, Italian and Spanish Baroque paintings and in British portraits from Tudor times to the nineteenth century.
Dulwich Picture Gallery is an independent charitable trust and is not in receipt of any regular government funding.  The Gallery's vision is to set an international standard of excellence amongst independent museums, recognised for innovative and dynamic engagement with art in the belief that art can transform lives for the better. Dulwich Picture Gallery has been granted £2m in endowment funding by the Heritage Lottery Fund (HLF) and Department for Culture, Media and Sport (DCMS) Catalyst Endowments scheme. This generous pledge challenges the Gallery to raise a £4 million in matching donations by 2016 to create a new £6m endowment fund for visual arts learning.