NADFAS Drawn From Life exhibition moves to a new venue due to popular demand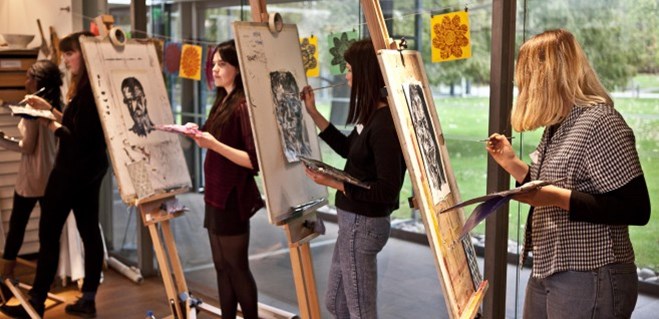 Dulwich Picture Gallery is delighted to announce an exciting new collaboration with online gallery Londonart who are currently running a Pop Up space in Dulwich Village. Work from the recent NADFAS Life Drawing Masterclass for 16-18yrs will be going on display in this vibrant local space on 4 December.
The displayed work was created in a completely free of charge intensive three-day workshop at Dulwich Picture Gallery during the October half-term.  Selected young people developed their skills drawing from life and created work for the public exhibition now moving to the Pop Up Gallery in Dulwich Village, after its run at Canvas and Cream in Forest Hill.
From preliminary sketches to colourful paintings, monochrome portraits to linocut prints the exhibition highlights the huge variety of skills covered and the broad range of media used by the participants.
Working with a professional artist these young people gained an insight into what art school studies could entail. This is the first year the Gallery has included the extra element of a public exhibition. This display will add to the participants' portfolio of achievements.
Londonart was founded in 1997 as a platform for artists to sell work and has since become the UK's leading online gallery. The pop-up gallery showcases a selection of its most talented artists with over 200 works on display including sculpture, painting and photography.
The exhibitions runs from 4 – 11 December 2012
-Ends
For further information please contact Lettie McKie, Public Programmes Manager,l.mckie@dulwichpicturegallery.org.uk / 0208 299 8732
Listings Information:
NADFAS Drawn From Life works at Londonart Pop Up Gallery
91 Dulwich Village,
London,
SE21 7BJ
Opening hours:
Mon-Fri 11-6
Weekends 10-6