Lecture sheds new light on role of Churchill's mother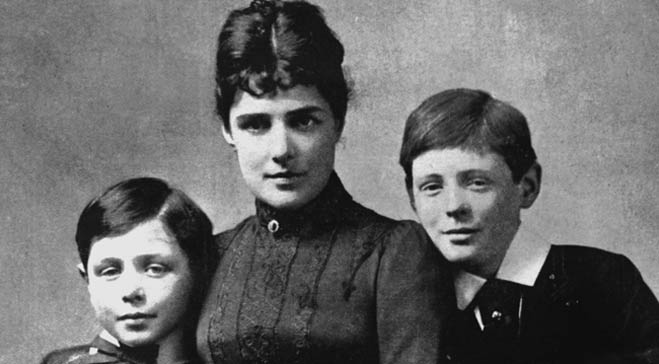 From left to right: Jack Churchill, Lady Randolph Churchill, Winston Churchill
Author and journalist Anne Sebba will draw Dulwich Picture Gallery's Contextual Lecture Series to a close with 'Jennie Churchill: Ambitious Seductress, Style Icon or Winston's Pushy mother?' at the Gallery on 2 December 2014. Timed to give food for thought in the run up to the 50th anniversary of Churchill's death on 24 January 2015, the lecture will introduce his American mother, Lady Randolph Churchill and shed light on the pivotal role she played in instilling the confidence in her son to lead Britain to victory in the Second World War. The lecture looks at Jennie Churchill's vital formative influence which propelled her son Winston Churchill towards political leadership. She encouraged him to make speeches that could hold the attention of a room, acted as his personal tutor sending him a constant stream of books and taught him to appreciate art as well as humour.

"Jennie excites hot passions and even today she is still a controversial figure"said Anne Sebba. "She was thought to be an ambitious seductress as well as a pushy mother but the new historical emphasis on women as wives, mothers and sisters means that today's generation is able to see great men and their successes or failures differently through that prism. Winston was Jennie's greatest creative project and in the lead up to the anniversary of his death, it's really important to look at how he derived his strength and determination to become leader of the country when he was in his 60s - I think all of this stems from his American mother."

Churchill is the last of 20 iconic figures which have been discussed in Dulwich Picture Gallery's prestigious Contextual Lecture Series 2014 which explored some of the most significant people who have changed the world. 
 
Jennie Churchill: Ambitious Seductress, Style Icon or Winston's Pushy mother? is at Dulwich Picture Gallery on 2 December 2014 from 10.30 – 11.30am in the Linbury Room.

- Ends
 
Anne Sebba is available for interview

For further information, please contact Louisa Bee, Press Officer 
l.bee@dulwichpicturegallery.org.uk / 020 8299 8710
Booking/ further information:
For more information about the series, please visit www.dulwichpicturegallery.org.uk
Tickets cost £10 (£9 for Friends)
Tickets are available in advance online and on the telephone and there will be some availability on the door for each event on a first come, first served basis
For more information please contact Lettie McKie, Public Programmes Manager
l.mckie@dulwichpicturegallery.org.uk / 0208 299 8732
Notes to Editors:

Anne Sebba is a biographer, lecturer, journalist and former Reuters foreign correspondent. She read History at King's College, London University and her first job was at the BBC World Services in the Arabic Department. She has written eight books, several short stories and introductions to reprinted novels. She has writtten and presented documentaries on BBC R3 and BBC R4 about the pianists Joyce Hatto and Harriet Cohen. Currently, she is Chair of the Management Committee of the Society of Authors and President of ArtsRichmond. Her latest biography is of Wallis Simpson called That Woman, The Life of Wallis Simpson Duchess of Windsor.
Dulwich Picture Gallery
Dulwich Picture Gallery is the world's first purpose-built public art gallery, founded in 1811 and designed by Regency architect Sir John Soane. It houses one of the finest collections of Old Masters in the country, especially rich in French, Italian and Spanish Baroque paintings and in British portraits from the Tudor period to the 19th century. The Gallery's permanent collection is complemented by its diverse and critically acclaimed year round temporary exhibitions.