Winifred Nicholson's experimentation years revealed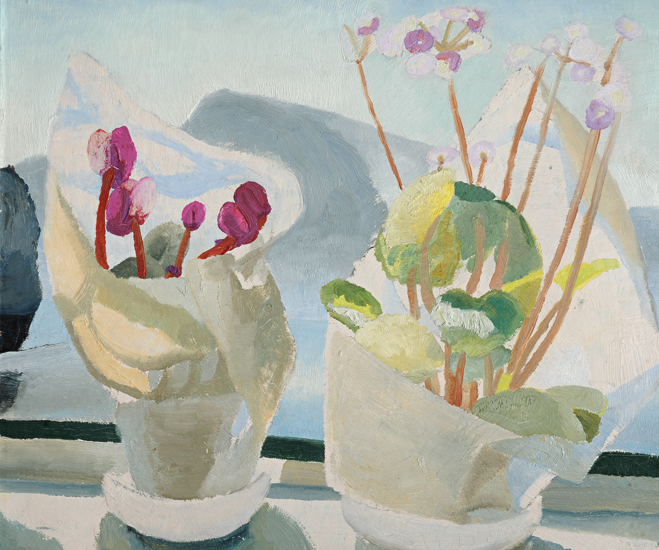 Paintings by the 20th century colourist Winifred Nicholson will be on display in a major exhibition at Dulwich Picture Gallery this summer providing insight into her early years of fast and furious artistic experimentation. 'Art and Life: Ben Nicholson, Winifred Nicholson, Christopher Wood, Alfred Wallis, William Staite Murray, 1920 – 1931' will include rarely or never seen before oil paintings created by Winifred during her ten year marriage with Ben Nicholson.
Curated by Jovan Nicholson, Winifred and Ben's Grandson, 'Art and Life' includes over 20 of Winifred's striking still lifes, landscapes and portraits created between 1920 and 1931; years which proved seminal for her artistic development. Winifred experienced a tension between her enjoyment of loosely and generously applied colour and the constraints of the traditional techniques she was taught at the Byam School of Art in London. Meeting Ben in 1920, she found a companion and like-minded partner with whom to share her attempt to distance herself from the tradition within which she had grown up. Cezanne and Picasso were two of the biggest influences on the couple's artistic output as well as Henri Rousseau's formal simplification and directness, which Winifred combined with use of bold, concentrated colours, as in Castangola (Red Earth) which receives its first public showing in the show.
Grouped by location, 'Art and Life' features several paintings of Cumberland where Winifred lived with Ben, such as Cumberland Landscape, which is displayed for the first time. The couple stayed in London, Lugano, Switzerland and Cornwall and regularly painted and exhibited with their friends and contemporaries Christopher Wood, William Staite Murray and later, Alfred Wallis. Winifred benefited greatly from this life of artistic exchange and Ben's sense of adventure and his unstoppable desire to see and try new things helping her develop her own response to the modernist revolution. Winifred's interest in colour, however, did not waver throughout her marriage to Ben, who was more preoccupied with form. The juxtaposition of specific pictures by Ben and Winifred in the exhibition sharing the same colour values shows just how much Winifred led and developed Ben's sense of colour, for example, Ben's 1924 (first abstract painting, Chelsea)  and Winifred's King's Road, Chelsea.
The beginnings of Winifred's desire to break away from tradition had already been established during a trip to India in 1919 when her sense of light and colour truly came to life. The exposure to new paintings and traditions gave her valuable insights into the role her fascination with pictorial light could play in infusing spiritual qualities into her work. Flowers were the perfect subject to combine her interest in colour with the aspiration to give the spiritual dimension to her art. Anemones, 1924 receives its first public showing, and is an early example of how Winifred used her favourite magenta pink colour as a highlight to break out all the various yellows into luminosity.
Jovan Nicholson said:
"Winifred used flowers to express her ideas about colour and the exhibition demonstrates how by 1924 she had worked out her fundamental colour theory. Later works in the show highlight the influence of fellow artists - one of my favourite paintings is Boat on a Stormy Sea which Winifred probably painted in St. Ives after she had met the marine painter Alfred Wallis. You sense her delight in the process of painting, with her paint loaded brush whooshing across the surface of the canvas. But it also shows how much she appreciated Wallis with his natural sense of movement. For me it has been an enduring and deepening pleasure to come to know my grandparents work more closely. Most importantly I hope the show will bring much pleasure and enjoyment to the viewers."
The exhibition is curated by Jovan Nicholson, an Art Historian who has worked on various projects with the Henry Moore Foundation, the Barbican Art Gallery and the Russian Museum, St Petersburg. He is a grandson of Ben and Winifred Nicholson. Loans have been secured from major national collections including Leeds Art Gallery, Kettle's Yard, Tate, York Museums Trust, National Gallery of Scotland, Brighton and Hove Museums; and important and rarely seen works from a number of private collections. A major full colour catalogue accompanies the exhibition, comprised of essays by Jovan Nicholson, Sebastiano Barassi and Julian Stair, published by Philip Wilson Publishers.  It will present archival photographs, the majority unpublished and coming from private collections.
Image: Winifred Nicholson, Cyclamen and Primula, c.1922-3, oil on paper / board, 50 x 55 cm, Kettle's Yard / © Kettle's Yard / Trustees of Winifred Nicholson
-Ends
To download images please visit our Image Site
Notes to editors
Winifred Nicholson (1893-1981) was born in Oxford as Rosa Winifred Roberts. She was the granddaughter of George Howard, 9th Earl of Carlisle, an amateur painter and friend of the Pre-Raphaelites. She studied at the Byam Shaw School of Art, and married Ben Nicholson in 1920 shortly after a visit to India. Winifred is best known for painting flowers, which she used to convey her ideas about colour. By the late 1920s she was widely respected in the London art world, with solo exhibitions at the Beaux Arts Gallery in 1927 and the Leicester Galleries in 1930. After her marriage with Ben Nicholson came under strain she moved to Paris in 1932 and befriended and collected a number of Parisian artists, including Mondrian, Gabo and Hélion.
Dulwich Picture Gallery
Dulwich Picture Gallery is the world's first purpose-built public art gallery, founded in 1811 and designed by Regency architect Sir John Soane. It houses one of the finest collections of Old Masters in the country, especially rich in French, Italian and Spanish Baroque paintings and in British portraits from the Tudor period to the 19th century. The Gallery's Permanent Collection is complemented by its diverse and critically acclaimed year round temporary exhibitions.
For over a quarter of a century Dulwich Picture Gallery's award-winning learning and community engagement programmes have reached beyond the Gallery's exhibition programme to bring art to the South London community through outreach initiatives including 'Youth Engagement Programme', 'Good Times: Art for Older People' and 'Prescription for Art'.
Press View:
Tuesday 3 June, 2 - 5pm
Curator's Tour: 2.15pm
Refreshments: 3pm
Listings Info:
Title: Art and Life: Ben Nicholson, Winifred Nicholson, Christopher Wood, Alfred Wallis, William Staite Murray, 1920 – 1931
Exhibition dates: 4 June 2014 – 21 September 2014
Tickets (pre-book online):
Full Price £11 (£10*)
Senior Citizens £9 (£8*)
Unemployed, disabled, students £6 (£5*)
Children and Friends Free
Audio-guide: £3
*Indicates price without gift-aid
Associated Public Events:
Exhibition Lecture: Art and Life: Ben Nicholson, Winifred Nicholson, Christopher Wood, Alfred Wallis, William Staite Murray (1920-1931)
Curator, Jovan Nicholson
Thursday 5 June
12.30-1.30pm/Linbury Room
£12, £10 Friends
Art and Life: Composition and Colour
Six Saturdays from 7 June to 5 July
Six Saturdays from 20 September to 25 October
10am – 1pm
£90 / £85
Focus on the Art and Life exhibition to create personal pieces paintings inspired by
your own life experience. Experiment with colour and composition referring to
spatial devices to manipulate space like used by the St. Ives artists past and present
with artist Rebecca Allen
Art and Life: Silk Screen Printing
Sunday 14 September
10.30 – 4pm
£55 / £50
Create an edition of colour screenprints, inspired by Ben Nicholson's abstract still-life compositions. Working from observation, cut stencils and learn to print through a screen to create a multi-colour prints with printmaker Victoria Browne.
Art and Life: Wood Engraving
Six Saturdays from 20 September to 25 October
10am – 1pm
£90 / £85
Discover this traditional method of relief printmaking and create exquisitely
detailed images. Explore each fascinating stage of the process and use the abstract
paintings of Ben Nicholson as inspiration for your designs with wood engraver
Peter Brown
Art and Life: Discover Still Life
Five Tuesdays from 3 June to 1 July
10am – 12pm
£55/£50
Explore still life with a focus on colour, shape and natural form taking inspiration
from the exhibition Art and Life. Explore a range of drawing and painting
techniques to create dynamic still lifes with artist Jo Lewis
Art and Life: Alfred Wallis - on the Thames
Five Tuesdays from 16 September to 14 October
10am – 12pm
£55 / £50
Take a voyage with Alfred Wallis whose love of boats and the sea was expressed
in his work. Wallis painted on anything to hand,
such as cardboard or brown paper. Work in paint and collage with artist Liz Charsley-Jory
Booking details:
Book online at www.dulwichpicturegallery.org.uk
Or by phone on 020 8299 8732