Gallery works with young patients from St George's Healthcare to explore the therapeutic benefits of art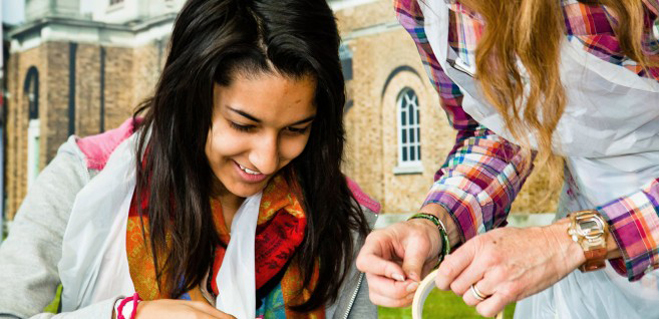 Dulwich Picture Gallery has partnered with St George's Healthcare in a new initiative to reach out to young people in hospital.
Gallery Artist in Residence, Liz Charsley-Jory, ran creative workshops with hospital patients aged 5-17. They designed and made magical wintery landscapes; giving children who are unwell the opportunity to be expressive and enjoy the therapeutic effects creative sessions can offer. The artworks forming this project, Winter Silhouettes, will be on display in a temporary exhibition over the Christmas period at St George's Art Gallery from 10 December 2012 – 11 January 2013.
This project will promote the well-being of the participants involved through artistic creativity, as well as establishing an on-going relationship between the Gallery and the trust's art committee: Arts St George's. This project is part of the Gallery's pioneering work in strengthening health and wellbeing through engaging the community in arts activities.
Through Community Engagement Programmes, Dulwich Picture Gallery welcomes and connects isolated groups to the Gallery and the Arts every week. Community partners are offered tours, workshops, talks and events, free of charge.
The trust's arts programme, dating from the early 1980s, is funded by St George's Hospital Charity and led by Arts St George's. It boasts outdoor sculptures, pictures, special commissions and live-arts.
St George's Healthcare's thriving arts programme is integral to the Trust's on-going work to improve the patient environment. St George's Art Gallery is within the hospital restaurant on the first floor of the Lanesborough Wing where artwork, featuring frequently changing exhibitions of two dimension art and photography, is viewable by hospital visitors. The Gallery is run by a team of dedicated volunteers who include medical and non-medical staff, retired staff and local artists and supporters, under the auspices of, Belinda Harward, arts director, St George's Healthcare.
Dr Simon Joseph, one of the curators, said: "I hope that St George's Art Gallery, with its slogan 'Promoting Wellbeing', plays a therapeutic part in the healing and teaching process.
Dulwich Picture Gallery and St George's Healthcare are delighted to announce that the Mayor of Wandsworth, Councillor Adrian Knowles, will be opening the Winter Silhouettes exhibition at the Private View  on Monday10th December, 5-7pm.
-Ends
Exhibition Preview:
10 December, 5 – 7pm
Location: Arts St George's Gallery, Ingredients Restaurant Lanesborough Wing, 1st Floor, St George's Hospital, Blackshaw Road, SW17 0QT
Please RSVP to Michelle at: m.weiner@dulwichpicturegallery.org.uk
Listings information:
Winter Silhouettes
10 December – 11 January
First Floor, Lanesborough Wing, St George's Hospital