Gallery collaborates with award-winning dancer and choreographer for unique multi-disciplinary evening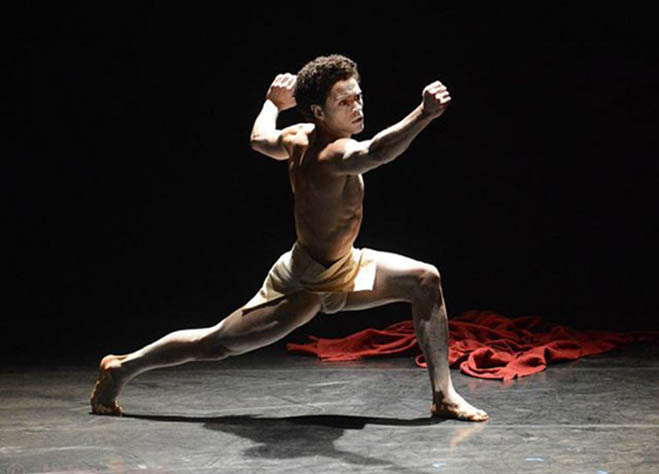 On 16 and 17 October, Dulwich Picture Gallery will present two unforgettable evenings of dance, music, life-drawing, and visual art inspired by the current display of work by the French draughtsman Pierre-Paul Prud'hon (1758-1823). Guests can enjoy the evening as an observer or record the spectacle through life-drawing with help from an experienced tutor.
 
'Dance sculptures' conceived by Rambert choreographer and dancer Dane Hurst, will slowly come to life to live musical accompaniment; a dramatic and beautiful scene looking at the moving body through space. The event will feature new choreographic work for an all-female cast with garments by fashion designer Micol Ragni, culminating in a moving solo performance of Hurst's critically acclaimed O'Dabo and duet, Finding Freedom, with Romany Pajdak from the Royal Ballet. Live music will feature soprano Sarah Gabriel, violinist Satoko Fukuda performing music by composers Paul Gladstone Reid and Tom Rowland. Real-time photography by Tom Rowland will be projected onto screens at either end of the Gallery and limited edition prints will be available for the audience to purchase during the evening.
 
Prud'hon was renowned for the immediacy and expressiveness of his works, working through direct observation of human sitters – unlike many of his contemporaries – and poising figures in states of motion. In Prud'hon: The Moving Body, viewers will be able to put themselves in his shoes, first by sketching slowly but constantly moving bodies and then by observing stunning contemporary dances.
 
This unique event has been created exclusively for Dulwich Picture Gallery by Dane Hurst in collaboration with an eclectic team of creatives including Hurst's long-time collaborator Tom Rowland.
 
- Ends

For further information and high-res images contact:
Louisa Bee, Press and Communications Manager
l.bee@dulwichpicturegallery.org.uk / 020 8299 8710
Notes to editors

 
Event details:
 
Preview: Friday 16 October
£25, £20 Friends, concessions
£15 Students and under 18s
Saturday 17 October
£35, £30 Friends, concessions & students
7.30pm in the Gallery
Drinks will be available during the evening
 
Booking info:
Booking is available online at www.dulwichpicturegallery.org.uk/prudhon-moving-body
Dane Hurst
Dane Hurst joined the Rambert Dance Company as the first recipient of the Sally Gilmour Memorial Trust award in 2004 and has made guest appearances with Phoenix Dance Theatre, National Dance Company of Wales and The Curve Foundation. He has been nominated for awards by the Critics Circle National Dance Awards in 2006 and 2013 and received the 2007 Spotlight Male Dancer of the Year Award. Dane was voted 3rd by an international jury of dance writer's and critic's for Dance Europe Magazine's Top 100 Dancers of the year 2012, and later received the Best Male Dancer of the Year Award in January 2014 as voted by the Critics Circle National Dance Awards, London, U.K.
As a choreographer, Dane won the MAMA's Award with Kira Zhigalina for the Kinetika Art Fair 2012 and has received choreographic commissions from Rambert, The Place Prize, The Barbican, RichMix, InTransit Festival, Stuttgart International Solo Dance Theatre Competition and Wilton's Music Hall. He has performed his choreographic works at the Carriageworks Theatre - Leeds, Peacock Theatre and Lilian Baylis – Sadler's Wells, Robin Howard Theatre, Queen Elizabeth Hall, Linbury Theatre - Royal Opera House, Wilton's Music Hall, The Commonwealth Institute and the Hall for Cornwall - Truro. He has graduated with a Master's Degree in Choreography from the University of Kent and Central School of Ballet in 2014 and performed as an actor and choreographed for the film 'Primitive', directed by Tom Rowland with screenings at RichMix - London, June 2014 and at the 43rd Dance on Camera Festival, Lincoln Centre in New York, January 2015.