London's architectural hit of the summer finds new use with local primary school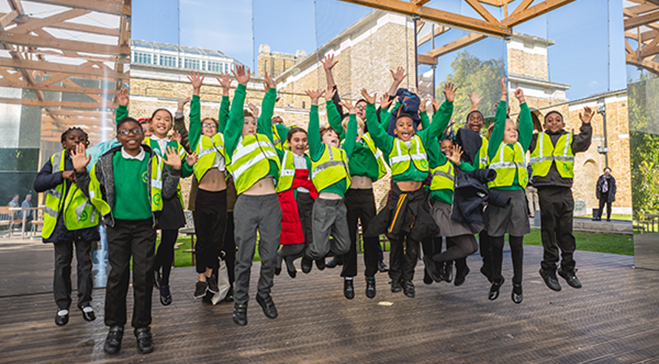 The Dulwich Pavilion – a temporary events space built for  Dulwich Picture Gallery's Bicentenary year and one of the triumphs of the 2017 London Festival of Architecture – is to find a new use when it becomes the focal point of Goose Green Primary School's playground in East Dulwich, London in 2018.
Created by young emerging architecture practice IF_DO, the Dulwich Pavilion was the result of a design competition organised by the Gallery in partnership with the London Festival of Architecture and Almacantar. From June until deconstruction began last week, the pavilion formed the backdrop for a summer of artistic and cultural events, and became a popular destination where thousands of people came to relax and enjoy themselves during long summer evenings. Hugely popular with the public and highly praised by architecture critics, the pavilion is now collecting awards for its design and structural innovation – most recently the American Architecture Prize.
Designed to be demounted for reuse in order to provide a sustainable legacy, the pavilion will be moved to storage until next summer when it will be rebuilt as a permanent outdoor space at Goose Green Primary School. The school will work closely with IF_DO who will continue to act as design guardians for the newly reinstalled pavilion. Children and parents will also be encouraged to have their say on how they would like the pavilion to be repurposed. While the timber roof is fixed, the flexible nature of the pavilion and its moveable panels means that the school can create a bespoke space.
The addition of the pavilion is perfect timing for the school, who have been liaising with children and parents to improve the current playground area which currently lacks a safe outdoor, waterproof play area and outdoor learning space. They approached the Dulwich Picture Gallery who selected the school as an ideal candidate to receive the pavilion for a clear local community use.
Goose Green School will now start raising funds for the reconstruction of the pavilion, which is due for summer 2018.
Simon Wattam, Head of Goose Green School said:
"The pupils, my fellow staff and I are hugely excited about this project. It will give us a unique opportunity to involve the children in an exciting creative process and when it is in place the Pavilion will completely change the use of the playground when it rains. It will also provide an inspiring all-weather outdoor teaching space in which children can learn. We're thrilled to be working with the Gallery to carry on the legacy of such a wonderful, community minded project."
 Al Scott, Director, IF_DO, said:
"It was always our hope that the pavilion would be reused, and so we are excited that Goose Green School is providing a permanent home for the structure. We have enjoyed watching people engaging with the pavilion this summer, and now look forward to seeing it re-appropriated for use by the pupils of Goose Green, and the opportunities it will bring for outdoor activities."
Mike Hussey, Chief Executive of Almacantar said:
"It will be fantastic to see such a successful architectural venture culminate in a long-lasting legacy for the local community and it is a testament to IF_DO's design concept that it has caught the imagination of so many. Almacantar are proud to have supported such a bold and ambitious project."
Tamsie Thomson, Director at the London Festival of Architecture, said:
"The Dulwich Pavilion has been an outstanding project and I am delighted that it will continue to delight and benefit the local community. Pavilions should never be follies: as well as creating something useful for the Gallery this summer and a building that celebrated amazing architectural talent here in London, we wanted to commission a building that could have a positive and useful legacy. IF_DO have delivered exactly that."
Jennifer Scott, Sackler Director of Dulwich Picture Gallery said:
"The Dulwich Pavilion project has transformed our grounds over the summer providing the Gallery with much needed space to broaden our events, schools and community programme to a wider audience. 40% of audiences to our Pavilion Lates programme were new to the Gallery. To know that the pavilion will have a legacy beyond this, meeting the needs of a school and community so local to us, is hugely exciting."
-Ends
Notes to editors
The Dulwich Pavilion 2017 was created through a partnership between Dulwich Picture Gallery, the London Festival of Architecture and Almacantar. It was designed by young and emerging architects IF_DO to celebrate the Gallery's Bicentenary year and attract new audiences to its historic site. IF_DO will continue to be the architectural guardians of the Pavilion working in collaboration with Goose Green School and architect Will Foster, a parent at the school, to deliver the structure's second life.

Media Enquiries contact:
Louisa Bee, Press and Communications Manager
l.bee@dulwichpicturegallery.org.uk / 020 8299 8710

Image credit: Graham Turner