Professor Evelyn Welch, MBE, appointed new Chair of Trustees of Dulwich Picture Gallery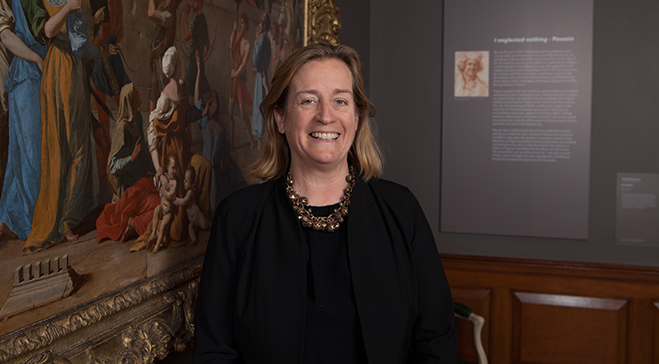 Professor Evelyn Welch MBE is to take over from Simon Freakley as Chairman of the Trustees at Dulwich Picture Gallery after five years in the position. Evelyn has an extensive history within the arts across leadership, management, academic and charitable roles. She is currently Vice-Principal (Arts and Sciences) and Professor of Renaissance Studies at King's College London and Trustee and Chair of the Collections Committee and member of the Remuneration Committee at the Victoria and Albert Museum.

In 2013 Evelyn was awarded an MBE for services to higher education and the creative economy and has many years of senior management experience with the academic arena including as Vice-Principal for Research and International at Queen Mary, University of London. She has published several books on the Renaissance and has been awarded a number of fellowships including the Theo Crosby Fellowship (The Globe Theatre, 2011) and an Honorary Senior Research Fellowship at the Victoria and Albert Museum (2010).

Evelyn Welch said:
"Dulwich Picture Gallery has been my local gallery for many years and it has been gratifying to observe its growth as an institution over the last decade or so achieving significant international acclaim and attention. It now offers a world-class exhibition programme year on year and yet, critically, remains at the heart of its local community developing pioneering learning, outreach and public programming. I feel honoured and excited to join a gallery with such a rich history and such a bright future. I look forward to working with the Directorate and the team at the Gallery as it moves into its Bicentenary year."
 
Chairman of Trustees, Simon Freakley, said:
"I am delighted that Evelyn has accepted our invitation to succeed me as Chair of Trustees. It has been an absolute privilege and a pleasure to be part of this wonderful institution throughout some of its most successful years. I have been lucky to serve alongside a dedicated team of Trustees and we are constantly inspired by the excellence of the Gallery's artistic vision and the commitment of its staff. I'm sure that Evelyn will be an excellent Chair and I am confident that the Gallery will continue to thrive under her leadership."

-Ends
Notes to Editors:
Simon Freakley is relocating himself and his family to New York where the head office of the business he leads – AlixPartners – is based.

Evelyn Welch will be the Gallery's fifth Chair of Trustees since an independent board was formed in 1994. In 2016 Dulwich Picture Gallery has seen:
A trajectory of growth with numbers increasing from 98,000 in 2004/5 to 220,000 in 2015/16.

Over 35,000 participants taking part in its learning and outreach programmes each year.

An internationally acclaimed exhibitions programme including recent successesHockney, Printmaker; Ravilious: Watercolours; The Amazing World of M.C.Escher; and Nikolai Astrup: Painting Norway.

A programme of international lending from its collection across the world.

An expanding programme of contemporary artistic responses to its permanent collection including dance and music commissions.

Recently placed no. 2 of 'the best small museums in the UK' by The Times.
Biography: Professor Evelyn Welch MBE is an art historian, author, and senior public leader. Since 2013 she has been Vice-Principal (Arts and Sciences) at King's College, University of London. She studied Renaissance History and Literature at Harvard University and then went on to gain my PhD from The Warburg Institute. She has held positions at the Universities of Essex, the Warburg Institute, Birkbeck, Sussex and Queen Mary, University of London. She lives in South East London and is mother to three children including singer and song-writer Florence Welch, frontwoman of the English rock band Florence and the Machine. Evelyn has worked closely with museums, galleries and with media companies to ensure that early modern material culture is well understood by the public. She has been involved in the development of the V&A's Medieval and Renaissance Galleries and the Europe, 1600-1800 galleries and is Trustee and Chair of the Collections Committee and member of the Remuneration Committee at the Victoria and Albert Museum.
Selected publications
'Scented Gloves and Perfumed Buttons: Smelling Things in Renaissance Italy', in Ornamentalism: Accessories in Renaissance Europe, ed. Bella Mirabella, University of Michigan Press, 2012.

with James Shaw, Making and Marketing Renaissance Medicine: the Speziale al Giglio in Florence, 1493-1494, Wellcome Trust History of Medicine Clio Medica series, Rodopi, Amsterdam, 2011.

Shopping in the Renaissance. Consumer Cultures in Italy, 1350-1600, Yale University Press, 2005

Art in Renaissance Italy, 1350-1500, Oxford University Press, Oxford, 2000.

Art and Authority in Renaissance Milan, Yale University Press, London, 1995.

with Michelle O'Malley, eds, The Material Renaissance, Manchester University Press, Manchester, 2007
Media Enquiries:
Louisa Bee
Press and Communications Manager
+44 (0) 208 299 8710
l.bee@dulwichpicturegallery.org.uk