Dulwich Picture Gallery presents first major exhibition dedicated to Whistler's time in London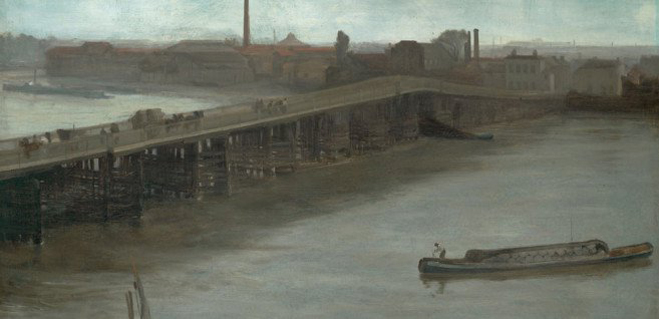 'An American in London: Whistler and the Thames' at Dulwich Picture Gallery will be the first major exhibition dedicated to American-born artist James McNeill Whistler's time in the capital between 1859 and 1903. Showcasing Whistler's scenes of London the exhibition will include paintings, etchings and drawings produced during the artist's various residences and will present over 70 objects to provide a fascinating visual investigation into Whistler's depiction of the Thames and Victorian London during a transitional period in the expatriate artist's creative development.
Co-curator Professor Margaret F. MacDonald explained "Whistler settled in London in 1859 and his etchings and paintings mark one of his most successful and profound assaults on the art establishment of his day. Whistler's superb draughtsmanship is seen in etchings such as Black Lion Wharf and a fascinating series of working proofs of a view of the Pool of London. His sympathetic, straightforward depictions of workers and the dockyard environment of Dickensian London such as The Lime-burner and the rare Ratcliffe Highway are fresh and insightful. His sense of colour and expressive brushwork is strikingly demonstrated in such important paintings as Wapping which we are very fortunate to have from the National Gallery in Washington, and in later, misty and mysterious depictions of the foggy Thames side such as Variations in Pink and Grey from the Musée d'Orsay."
The exhibition will include 15 of Whistler's paintings of Chelsea and the Thames River, along with 35 prints, ten rarely-seen drawings, watercolours, and pastels and will culminate in several of his famous Nocturnes including Nocturne: Blue and Gold – Old Battersea Bridge (1872/1873) , one of the artist's most critically acclaimed and widely-known paintings of Battersea Bridge, and a study of Black and Gold: The Fire Wheel (1893). Further exhibition highlights will include earlier works such as Brown and Silver: Old Battersea Bridge, (1859-1863) and Battersea Reach from Lindsey Houses (c. 1864). A man about town, referred to by some as a 'dandy', Whistler led a colourful life in London and his work raised controversy with John Ruskin, in 1877, accusing him of 'flinging a pot of paint in the public's face'. Whistler subsequently sued Ruskin winning pitiful damages but a moral victory against the critic. Whistler spent much of the later years of his life in the capital, where he died in 1903 and was buried in St Nicholas's Church cemetery, Chiswick.
This exhibition will feature portraits of Whistler and his patrons, bringing to life the personalities involved in this prolific period in the artist's career. Portraits including The Artist's Studio (1865) and Symphony in White No. 2: The Little White Girl (1864), as well as a lesser-known etching self-portrait, Whistler with a Hat (1859), will be on display. The exhibition will be complemented by historical photographs hung throughout the exhibition which will help to place Whistler's work into the social context of the Chelsea neighbourhood where he lived and worked whilst bringing to life the stories behind some of the famous works. Fourteen etchings from the 'Series of Sixteen Etchings of Scenes of the Thames, 1871' will be on display, including Rotherhithe (1860), an etching closely related to Wapping (1860-64), the innovative oil painting of the same year which features Whistler's mistress 'Jo', will also be in the show. The exhibition is co-curated by Professor Margaret F. MacDonald, Honorary Professorial Research Fellow and Dr. Patricia de Montfort, Lecturer, School of Culture and Creative Arts, University of Glasgow. Professor Margaret F. MacDonald was co-curator of Tate's major 1994 exhibition: 'James McNeill Whistler'.
Loans have been secured from key lenders including the Musée d'Orsay, the Metropolitan Museum of Art, Colby College Museum of Art, Museum of Fine Arts, Boston, National  Gallery of Art, Washington DC, the Art Institute of Chicago, V&A, Tate, the British Museum, and the  Hunterian. 'An American in London: Whistler and the Thames' will be on display at Dulwich Picture Gallery in autumn 2013  before touring the following year to: Addison Gallery of American Art, Andover, Massachusetts (1  February – 13 April 2014) and Freer Gallery of American Art and Arthur M. Sackler Gallery,  Washington D.C. (2 May – 14 August 2014). A catalogue accompanies the exhibition written by  Margaret F. MacDonald and Patricia de Montfort, published by Philip Wilson Publishers. It will  present the definitive examples of Whistler's radical new aesthetic approach to the time-honoured  subject of the city and river.
'An American in London: Whistler and the Thames' is kindly supported by the Friends of Dulwich  Picture Gallery, the American Friends of Dulwich Picture Gallery, the American Art Supporters  Group, the Michael Marks Charitable Trust and Farrow and Ball.
-Ends
Notes to Editors
Dulwich Picture Gallery is England's first purpose-built public art gallery, founded in 1811 and designed by Regency architect Sir John Soane. It houses one of the finest collections of Old Masters in the country, especially rich in French, Italian and Spanish Baroque paintings and in British portraits from the Tudor period to the 19th century. The Gallery's permanent collection is complimented by its diverse and critically acclaimed year round temporary exhibitions.
For over a quarter of a century Dulwich Picture Gallery's award-winning learning and community engagement programmes have reached beyond the Gallery's exhibition programme to bring art to the South London community through outreach initiatives including 'Youth Engagement Programme', 'Good Times: Art for Older People' and 'Prescription for Art'.
Dulwich Picture Gallery's Directorship position is endowed as The Sackler Director of Dulwich Picture Gallery thanks to a generous grant given in recognition of the Gallery's standing and achievements in both its exhibition and community engagement programmes. The grant from the Dr Mortimer and Theresa Sackler Foundation endows in perpetuity this position and secures the excellence and sustainability of the Directorship for the Gallery's future. The Gallery has been granted £2 million in Catalyst Endowment funding by the Heritage Lottery Fund (HLF) and Department for Culture, Media and Sport (DCMS) Catalyst Endowments scheme.  This challenges the Gallery to raise an additional £4 million in matching donations by June 2016 in order to secure the grant and establish a £6 million visual arts learning endowment fund.
Media Enquiries:
Ellie Manwell
Communications Manager
+44 (0) 20 8299 8711
e.manwell@dulwichpicturegallery.org.uk
Press View:
Tuesday 15 October, 2 – 5pm
Curator's Tour: 2.15pm
Refreshments: 3pm
Listings Info:
Title: An American in  London: Whistler and the Thames
Exhibition dates: 16 October 2013 – 12 January 2014
Tickets (pre-book online):
Full Price £11 (£10*)
Senior Citizens £9 (£8*)
Unemployed, disabled, students £6 (£5*)
Children and Friends Free
Audio-guide: £3
*Indicates price without gift-aid
Associated Public Events:
Exhibition Lecture:
Thursday 17 October, 12.30–1.30pm, Linbury Room
An introduction to the exhibition from its curators
£10 (£8)
Whistler: Colour, Technique, Harmony
Six Saturdays from 9 November to 14 December
10am – 1pm
£90 (Concessions and Friends £85)
Explore Whistler's restrained colour harmonies and experimental approach to painting. Benjamin Senior
Whistler and the Thames
Tuesday 7 to Thursday 9 August
10.30am – 4pm
£90 (Concessions and Friends £85)
Work using watercolour in response to Whistler's delicate drawings and etchings of the River Thames Liz Butler
Romance of the River
Five Tuesdays from 5 November to 3 December
10am-12pm
£55 (Concessions and Friends £50)
Make drawings of the river that recall the moods of Whistler's extensive and haunting depictions of the Thames Liz Charsley-Jory
BSL 'Exhibition in Focus' Tour
Whistler and the Thames
20 December, 3pm