Drawings by Rembrandt to travel outside of the Netherlands for first time for Dulwich Picture Gallery exhibition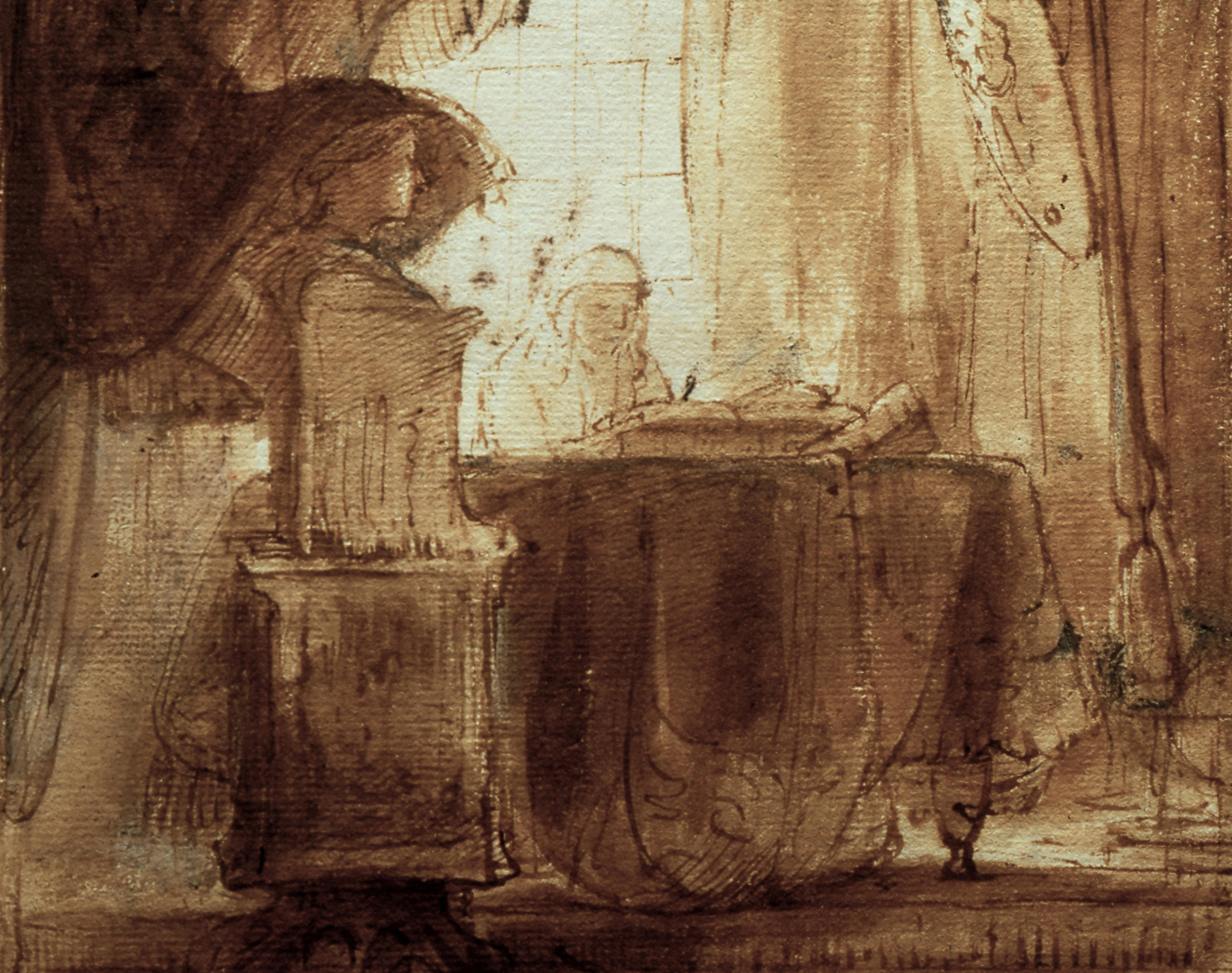 A book containing two personal entries by Rembrandt will travel outside of the Netherlands for the first time since its creation in 1652, as part of Dulwich Picture Gallery's forthcoming exhibition, Rembrandt's Light (4 October 2019 – 2 February 2020).
The Album Amicorum ('Friendship Book') of Rembrandt's influential friend and patron, Jan Six (1618-1700), will be displayed on the page showing the intricate drawing, Minerva in her Study, 1652 (Collectie Six, Amsterdam). This and Homer Reciting Verses (two pages earlier) are the only known drawings that Rembrandt dedicated to someone and will be loaned to the Gallery by a direct descendant of Jan Six.

Rembrandt and Jan Six were in closest contact from the early 1640s to early 1660s and this completed work of art was made to be looked at by the magistrate and his acquaintances. Rembrandt's use of light in the piece draws out the symbolism of the Roman goddess's attributes, while simultaneously flattering Six, who, like Minerva, was a protector of culture and learning.

Marking the 350th anniversary of Rembrandt's death (1669), Rembrandt's Light will explore the artist's mastery of light through 35 of his greatest paintings, etchings and drawings. The exhibition will be lit by leading cinematographer, Peter Suschitzky, and will reflect the drama and theatre in Rembrandt's visual storytelling, as well as the artist's more contemplative and spiritual work. The addition of this loan will reveal how Rembrandt blended a mythological subject with his personal world. He imagined Minerva sitting in Jan Six's own study, her power conveyed by the strong light from the window behind.
Rembrandt's Light, London's moment in the 'Year of Rembrandt', will bring together major international loans including The Pilgrims at Emmaus, 1648 (Musée du Louvre, Paris) and - shown for the first time ever in the UK - Philemon and Baucis, 1658 (National Gallery of Art, Washington DC), Tobit and Anna with the Kid, 1645 and The Dream of Joseph, 1645 (Gemäldegalerie, Berlin).
Baron Jan Six van Hillegom of Collectie Six, Amsterdam, said:

"It is important to me to share this incredibly special and private work of Rembrandt's, which travels outside of the Netherlands for the first time since its creation in 1652. It is an insightful representation of a personal relationship that Rembrandt held with Jan Six; the artist addresses him without the word 'sir' or 'lord' in the book, implying a close degree of friendship. This is an important work in what will be a beautiful exhibition that demonstrates how Rembrandt used light to reflect emotion; whether this was coming from within the works, or, like in this drawing, from him."

Ends
Download full press release and images
Contact

Meg Molloy, Senior Press Officer 
020 8299 8715 / m.molloy@dulwichpicturegallery.org.uk

Louisa Bee, Head of Communications 
020 8299 8710 / l.bee@dulwichpicturegallery.org.uk