First UK exhibition of master of the Spanish Baroque, Jusepe de Ribera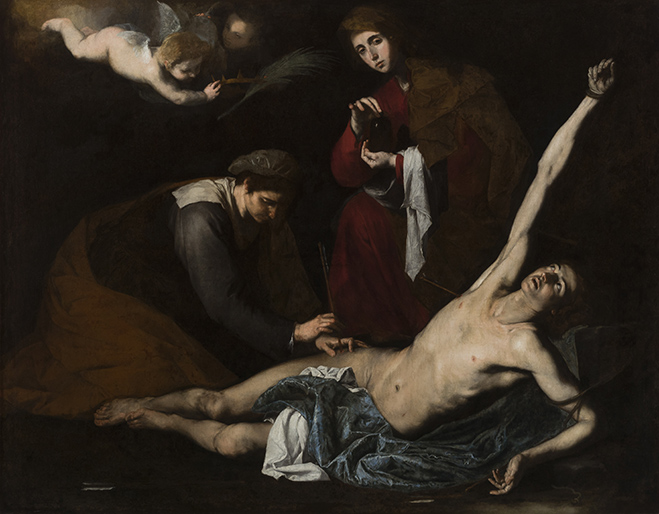 In autumn 2018, Dulwich Picture Gallery will present Ribera: Art of Violence, the first UK show dedicated to the Spanish Baroque painter, draughtsman and printmaker Jusepe de Ribera (1591–1652), bringing together his most sensational and shocking works.

A selection of eight monumental canvases will be displayed alongside exceptional drawings and prints exploring the powerful theme of violence in Ribera's art. Showcasing 45 works, the exhibition will be arranged thematically, examining his arresting depictions of saintly martyrdom and mythological violence, skin and the five senses, crime and punishment, and the bound male figure. Many of the works will be loaned from major European and North American institutions, on view in the UK for the first time.

Ribera (also known as lo Spagnoletto or 'the little Spaniard') has long been celebrated for his depictions of human suffering, a popular subject for artists during the Catholic Counter-Reformation. Born in Játiva, Valencia, Ribera spent most of his career in Naples, southern Italy, where he influenced many Neapolitan masters including Salvator Rosa and Luca Giordano. He is often regarded as the heir to Caravaggio for his dramatic use of light and shadow, and his practice of painting directly from the live model. 

This exhibition will assess Ribera's paintings, prints and drawings of violent subjects, which are often shocking and grotesque in their realism. It will demonstrate how his images of bodies in pain are neither the product of his supposed sadism nor the expression of a purely aesthetic interest, but rather involve a complex artistic, religious and cultural engagement in the depiction of bodily suffering. 

The show will open with a room of religious violence, investigating Ribera's depictions of the martyrdom of Saint Bartholomew, who was flayed alive for his Christian faith. One of Ribera's favoured subjects, Bartholomew was a common figure in southern European Baroque art, which aimed to reach out to the spectator and inspire devotion in post-Reformation Italy and Spain. Highlights will include three versions of Martyrdom of Saint Bartholomew spanning Ribera's career, which reveal the evolution of the artist's style and his hyper-realistic treatment of a shocking theme.

Throughout the exhibition, a selection of prints and drawings will illuminate Ribera's mastery of composition, gesture and expression, with works ranging from anatomical figure studies to inquisition scenes of the strappado (punishment by hanging from the wrists). A room dedicated to skin and the five senses will celebrate Ribera as a graphic artist, with studies of eyes, ears, noses and mouths displayed alongside images of Bartholomew flayed alive. 

A central theme is how Ribera broke new ground by capturing human suffering in his depictions of the male figure. The twisted pose of the male body in such drawings as Man Tied to a Tree (mid 1620s) from the Musée du Louvre, Paris, comprise a principal focus of Ribera's works on paper, which vary from abbreviated preparatory studies for paintings and prints, to more elaborate sketches and independent sheets. 

The exhibition will conclude with a room dedicated to one monumental painting, Apollo and Marsyas (1637), on loan from Museo Nazionale di Capodimonte, Naples, and the grand finale to the show. Paralleling Martyrdom of Saint Bartholomew, this painting – the tour de force of Ribera's career – portrays Apollo flaying Marsyas alive as punishment for losing a musical competition. The painting encapsulates the argument of the exhibition, for it demonstrates the violent outcome of artistic rivalry and the visceral convergence of the senses, as the ripping of skin is experienced through the intersections of sight, touch and sound.

Ribera: Art of Violence is curated by Dr Xavier Bray, Director, The Wallace Collection, former Chief Curator, Dulwich Picture Gallery and curator of the 2009 exhibition The Sacred Made Real: Spanish Painting and Sculpture 1600–1700 (National Gallery, London), and Dr Edward Payne, Head Curator: Spanish Art, The Auckland Project, County Durham, contributor to the catalogue raisonné of Ribera's drawings (2016) and author of a PhD thesis on the theme of violence in Ribera's art (2012).

Loans have been secured from a number of national and international institutions including the Museu Nacional d'Art de Catalunya, Barcelona; Museo de Bellas Artes, Bilbao; Galleria Palatina, Palazzo Pitti, Florence; Museo Nacional del Prado, Madrid; Museo Nazionale di Capodimonte, Naples; The Metropolitan Museum of Art, New York; Musée du Louvre, Paris; Rhode Island School of Design.
-Ends
Notes to editors
Media Enquiries:
Further information and high-res images, please visit the Press Site
www.dulwichpicturegallery.org.uk/about/press-media/
Contact:
Louisa Bee, Press and Communications Manager
l.bee@dulwichpicturegallery.org.uk / 020 8299 8710
Listings Info:
Ribera: Art of Violence
26 September 2018 - 27 January 2019
Generously supported by Centro de Estudios Europa Hispánica, The London Community Foundation and Cockayne - Grants for the Arts and The London Community Foundation and The Elizabeth Cayzer Charitable Trust.