Dulwich Picture Gallery presents Nash, Nevinson, Spencer, Gertler, Carrington, Bomberg: A Crisis of Brilliance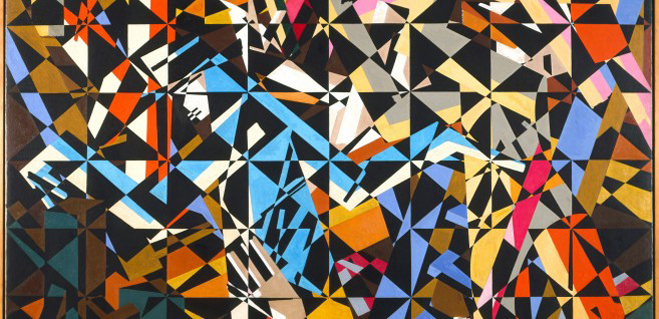 Dulwich Picture Gallery's summer exhibition Nash, Nevinson, Spencer, Gertler, Carrington, Bomberg: A Crisis of Brilliance, 1908 – 1922 (12 June – 22 September 2013) will bring together some of the best and most innovative works by Paul Nash, C.R.W. Nevinson, Stanley Spencer, Mark Gertler, Dora Carrington and David Bomberg for the first time. It will examine the evolution of this influential group who became among the most well-known and distinctive British artists of the early twentieth century.
The exhibition will consider the influences and challenges presented to these six young artists during this dramatic period of history.  As their talents evolved, members of the group became linked with the Futurists, the Vorticists and the Bloomsbury Group, and befriended the leading writers and intellectuals of the day.  However, with the declaration of war in 1914, the comparatively comfortable world these six artists knew changed irrevocably. The exhibition will culminate with a selection of their paintings made during and immediately after the Great War, some of which are the most celebrated visual records of the epochal event.  The display will include Stanley Spencer's acclaimed Unveiling Cookham War Memorial (1922), the first time it has been on display for almost 25 years.
All were students at the Slade School of Art in London, and their contemporaries there included other such gifted and ambitious young talents as Adrian Allinson, John Currie, Maxwell Gordon Lightfoot, Ben Nicholson and Edward Wadsworth.  It was, as their teacher of drawing later called it, the school's 'second and last crisis of brilliance'.  The first 'crisis' had occurred over a decade earlier.  Then, between 1893 and 1901, the Slade's crop of gifted young students had included Harold Gilman, Spencer Gore, Augustus and Gwen John, Percy Wyndham Lewis, Ambrose McAvoy and William Orpen.
The show features over 70 original works of art from public and private collections, including paintings, drawings and prints, as well as display cases of original letters, documents and photographs, highlighting the Slade artists' complex and fascinating inter-relationships, and their mutual influences.  Their story encompasses passionate love affairs, suicide, war and even murder; the show will match the highs and lows of these times with the artworks produced by its protagonists.  A number of rarely-seen works will be on display. These include Void (1918), one of Paul Nash's very first oil paintings, now in the collection of the National Gallery of Canada in Ottawa, and The Sea Wall (1919), possibly the first in the series of watercolours he painted at Dymchurch after the war; two of David Bomberg's vast early oil paintings, In the Hold (1913-14) and Study for 'Sappers at Work: A Canadian Tunnelling Company, Hill 60, St Eloi', (1918-19), described at the time as a 'futurist abortion'; and Dora Carrington's The River Pang (1918), painted shortly after she set up home with Lytton Strachey.
The exhibition is curated by David Boyd Haycock and is based on his group biography A Crisis of Brilliance: Five Young British Artists and the Great War, published to much acclaim in 2009.  In The Guardian, Jenny Uglow wrote "We should call for a joint exhibition of their work, to complement the moving portrayal of their lives in this engrossing and enjoyable book."  The inclusion of David Bomberg extends Haycock's biography in this presentation, prompting a further consideration of how the group's mutual influences developed.
'A Crisis of Brilliance' will include a wide range of works from major national collections (including Tate, the British Museum, the National Portrait Gallery, the V&A and the National Gallery of Canada); as well as from regional galleries in Birmingham, Leeds, Manchester, Oxford, Southampton and Barnsley; and important and rarely seen works from a number of private collections.
A major catalogue published by Scala in conjunction with the exhibition will include extensive historical analysis of the origins and the contemporary reception of the exhibited works, together with accompanying essays by David Boyd Haycock, Frances Spalding and Alexandra Harris.
-Ends
Listings Info:
Title: Nash, Nevinson, Spencer, Gertler, Carrington, Bomberg: A Crisis of Brilliance
1908 – 1922
Exhibition dates: 12 June – 22 September 2013
Tickets (pre-book online):
Full Price £11 (£10*)
Senior Citizens £9 (£8*)
Unemployed, disabled, students £6 (£5*)
Children and Friends Free *Indicates price without gift-aid
Audio-guide: £3
Associated Events:
Press View:
Tuesday 11 June
2 – 5pm
Transport from the National Portrait Gallery: 1.15pm
Curator's Tour: 2.15pm
Refreshments: 3pm
Exhibition Lecture:
Thursday 20 June, 12.30–1.30pm, Linbury Room
An introduction to the exhibition by its curator David Boyd Haycock
£10 (£8)
Late Night View:
Thursday 19 September
5 – 9pm
Normal exhibition prices apply
Education Events – Public Programmes
Crisis of Brilliance: Experimental Media
Five Tuesdays from 18 June to 16 July
10am – 12pm
Take inspiration from artists in our current exhibition Crisis of Brilliance, and work in a variety of media, styles and subject matter. Create your own landscapes, self-portraits or interiors in different media, to strengthen and extend your skills
£55 (Concessions and Friends £50)
The Abstract City
Six Saturdays from 28 September to 2 November
10am – 1pm
Be inspired by the energy, geometry and vitality of the works in
the recent exhibition Crisis of Brilliance to learn about the Vorticist movement which has helped to shape the appearance of the modern cityscape. Create work in acrylic which explores pattern, colour and hard-edged abstraction
With artist Rebecca Allen
£90 (Concessions and Friends £85)
Education Events – Community Engagement
A Crisis of Brilliance – Poetry Workshops
9, 16 July, 13, 20 August
4 creative outreach writing workshops with professional writer Cheryl Moskowitz.  Using the moving images from the exhibition as inspiration, participants will write expressive poetry based on their own experiences and feelings.  Their poetry will be recited informally in September during a celebratory Good Times programme tea party.
A Crisis of Brilliance – Painting Workshops
3, 24 July, 7, 21 August
Good Times participants will explore the various styles used by the artists featured in the exhibition creating their own compositions with bold strokes and geometric shapes.  This work will be informally displayed during the September Good Times tea party.  The event will bring together participants from both the painting and poetry workshops to share their interpretations of the exhibition with each other.