Young artists learn new skills in free NADFAS Masterclass at Dulwich Picture Gallery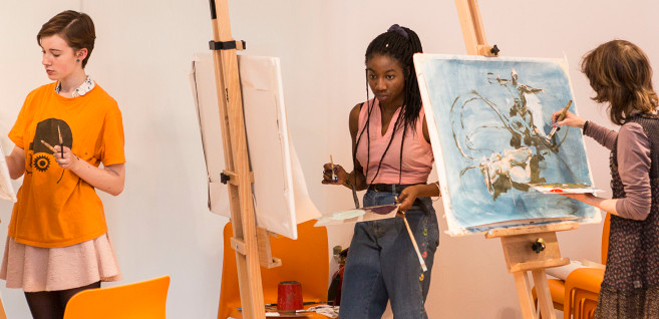 15 young aspiring artists took part in an intensive three day free workshop during half term (29 – 31st October), an opportunity provided by Dulwich Picture Gallery and NADFAS (National Association for the Decorative and Fine Art Societies) London Young Arts.
Talented students developed their observational skills by drawing directly from a male and female model, and experimented with different media. A selection of the standout work will be exhibited at NADFAS volunteering event 'Rising to the Challenge' at Kensington Town Hall on 12th November 2013.
The workshop which is now in its sixth year at Dulwich was led by artist and tutor Benjamin Senior, with the focus this year on 'the Body in Art'. The young people were inspired by a diverse range of artistic sources such as the ancient statue Laocoon and his sons and work by 20th Century German artist Frank Auerbach.
Young people gained unique insight into painting, as they learned how to apply techniques such as working with a limited palette, and how to use blocks of colour and clean lines. Over three days, students studied the male and female figure and composition before creating stunning final linocut prints inspired by their preliminary sketches.
Francesco, age 17 from Streatham said:
"I'm so grateful I had the chance to take part. The workshop liberated me by taking me out of my comfort zone- dealing with new concepts and techniques. It was awesome, I didn't want to leave"
From 50 applicants who applied for the course this year, a group of 15 were considered outstanding and shortlisted based on their reasons for applying and an example of their own artwork. The application process revealed that many young people saw the masterclass as an opportunity to strengthen their portfolio in order to move onto further education. For those thinking of applying to Art College, the workshop was the ideal occasion to prepare as a professional artist was on hand to offer advice and peers were able to exchange creative feedback.
Gillian Wolfe, Director of Learning and Public Affairs said:
"The combination of expert tuition from a notable artist and the high level of motivation from all the young people resulted in some extraordinary and powerful drawings and prints."
-Ends
For further information please contact Louisa Bee, Press Officer, l.bee@dulwichpicturegallery.org.uk / 0208 299 8710