Dulwich reveals M. C. Escher's supreme skill as fine artist in first UK retrospective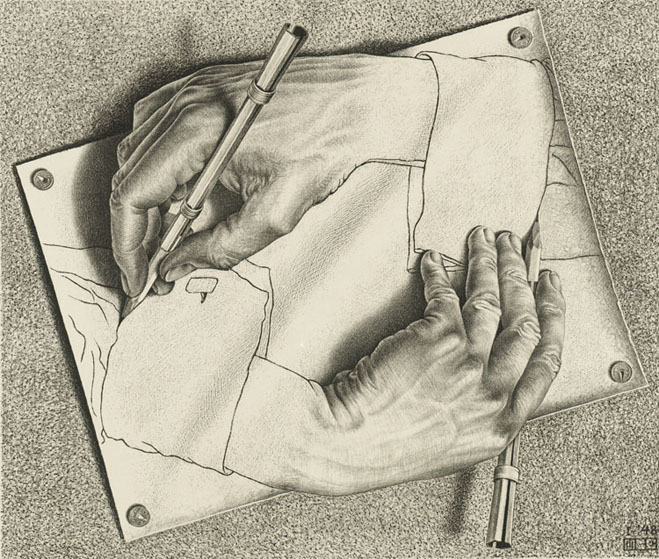 Dulwich Picture Gallery will bring to London 'The Amazing World of M. C. Escher' (14 October 2015 – 17 January 2016) the first major UK retrospective of original work by the great Dutch graphic artist Maurits Cornelis Escher (1898–1972) offering a rare opportunity to rediscover a giant of twentieth-century art and master of illusion and paradox.
Escher created some of the most popular images in modern art despite operating quietly at the fringes of the art world. His name instantly conjures up images of hands drawing hands, impossible staircases and distorted self-portraits in mirrored spheres. He succeeded in transforming his observations of reality into fascinating worlds, seducing and enchanting the viewer with drawings and lithographs that, over the years, have become part of our visual language - adorning teenagers' bedrooms and appearing on famous LP covers. Often classed as a graphic illustrator this mesmerising exhibition of original drawings, iconic and lesser known prints, lithographs, woodcuts and archive material will highlight his supreme skill as a master draughtsman and unparalleled technical ability.
 
The exhibition comes to Dulwich following its run at the Scottish National Gallery of Modern Art. It will showcase over 100 works as well as previously unseen archive material from the collection of the Gemeentemuseum Den Haag, The Netherlands. Arranged chronologically, the show stretches across Escher's whole career, tracing the periods that inspired his unique creativity. 
 
Travel was hugely influential in the development of Escher's work. He lived in Rome for ten years, taking annual trips through various parts of Italy where, inspired by the mountainous scenery and picturesque towns and buildings, he created irregular perspectives, impossible in natural form. In Still Life with Mirror (1934) for example, we see Escher using surreal illusion perhaps for the first time. When he moved to Switzerland in 1935 and then Belgium in 1938 he worked from images in his mind, rather than directly from observations. Escher focused on the concept of eternity in art - the subject of the well-known lithograph Drawing Hands (1948).
 
A shift in interest was also prompted when he re-visited the fourteenth-century palace of the Alhambra in Granada, Spain in 1936, where he became enraptured by the Moorish fortress' tiled walls of tessellated mosaics. He coined the phrase 'regular division of the plane' describing his technique of tessellation which enabled him to express eternity and infinity in a single print.
 
This is no more evident than in the woodcut Metamorphosis II (1939-40). Nearly four metres in length, it has tessellations both simple and complex effortlessly merging into each other; from fish to birds; hives to bees; simple blocks to stretching panoramas which then morph into chess pieces. The technique is also adopted in the extraordinary lithograph Reptiles (1943), where creatures crawl, fully formed, from a flat, two-dimensional drawing. This play between the two dimensional and the three dimensional, between art and reality, and between the 'real', the reflected and the imaginary, would remain constants in Escher's art.
 
Escher's world is one of playful imagination and the unexpected, executed with mathematic precision to create impossible, timeless realities that would inspire amazement in the viewer. He often communicated with – and absorbed much from – academics, most notably the British-born mathematicians H.S.M. Coxeter (1907-2003) and Sir Roger Penrose (b. 1931). Both were quick to grasp the complexities and originality of Escher's work; Penrose was hugely influential in the creation of two of Escher's most celebrated works, Ascending and Descending (1960) and Waterfall (1961) where, in the latter, the mathematician's "impossible triangle" was thrice-slotted into the picture to create a flowing yet physics-defying water structure.
  
Throughout the decades Escher's work has become truly ubiquitous, pervading popular culture in a way few other artists have achieved. His images have appeared on album covers (Mott The Hoople), his concepts in films both classic (Labyrinth) and contemporary (Inception), and countless homages to the artist have surfaced on television (The Simpsons, Family Guy) and most recently in the gaming app Monument Valley. However, the artist was not always happy about his images being used. He famously turned down a plea from Mick Jagger to design a Rolling Stones album cover.
 
The exhibition has been organised by the Scottish National Gallery of Modern Art in Edinburgh. Patrick Elliott, the Gallery's Senior Curator, said:
 
"There are two qualities one needs to become a great artist: imagination and technique, and Escher had both in spades. There aren't many artists whose work makes your jaw drop, but he's one of them. The odd thing isn't that we are showing Escher's work, it's that few people thought of showing him before".

Ian A. C. Dejardin, Sackler Director of Dulwich Picture Gallery, said:

"It is difficult to think of an artist with a broader appeal than M C Escher. His images are so magical, and so incredibly clever, that he creates impossible images that feel utterly real, like the very best fantasy writers. Enjoying these impossible realities, it's easy to overlook the astonishing skill that has gone into the drawing. This exhibition is a revelation; the artist defies categorisation, but Escher is a worthy addition to Dulwich's wonderful series of exhibitions devoted to graphic artists."

-Ends
Image: M.C. Escher, Drawing Hands, 1948, Lithograph, Collection Gemeentemuseum Den Haag, The Hague, The Netherlands. All M.C. Escher works © 2015 The M.C. Escher Company-The Netherlands. All rights reserved. www.mcescher.com
Notes to Editors
Dulwich Picture Gallery
Dulwich Picture Gallery is the world's first purpose-built public art gallery,
founded in 1811 and designed by Regency architect Sir John Soane. It houses
one of the finest collections of Old Masters in the country, especially rich in
French, Italian and Spanish Baroque paintings and in British portraits from
the Tudor period to the 19th century. The Gallery's Permanent Collection is
complemented by its diverse and critically acclaimed year round temporary
exhibitions.
Press View:
Tuesday 13 October, 2 - 5pm
Director's Tour: 2.15pm
Refreshments: 3pm
Listings Info:
The Amazing World of M. C. Escher
14 October 2015 – 17 January 2016
Tickets (pre-book online or purchase on arrival):
Adults £14*
Senior Citizens £13*
Unemployed, disabled, students £9*
*Ticket prices include a voluntary
Gift-Aid donation
Associated Public Events:
Amazing Worlds Weekend
Friday 30 & Saturday 31 October
Join us during October Museums at Night for a fantastical Escher inspired
weekend of events exploring the artistic and technological innovation
employed to create imaginary worlds from visual art to cinema, from gaming
to live experiences.
Friday 30 October, 6.30 – 11pm, Escher meets Inception
Enter a world of impossible perspectives and twisted realities. Explore M. C.
Escher with our exhibition tours. Create your own take-away artwork with
our live demonstrations of artist Anita Chowdry's The Iron Genie. Join in
with Monument Valley live gaming and hear from the creators how they
were inspired by Escher's work. At 9pm sit down for Christopher Nolan's
groundbreaking Inception on the big screen in the Gallery.
£25, £20 students/Friends
Saturday 31 October, 6 – 10pm, Halloween Harry Potter
Knock to enter a Halloween evening like no other. Dare to listen to our Gallery
tales: what stories do the Old Masters tell? Who was the Gallery's fourth
coffin for? Explore M. C. Escher's amazing worlds, create your own take-away
artwork and enjoy Harry Potter and the Philosopher's Stone on the big screen
in the Gallery. The best Potter inspired Halloween costumes on the evening
will win Escher goodies.
£24 adult, £20 students/Friends, £15 children
Lectures and Talks
Exhibition Lecture: The Amazing World of M. C. Escher
Thursday 15 June
12.30-1.30pm/Linbury Room
£12, £10 Friends

Escher in Italy: Influence and Architecture
Thursday 12 and Thursday 26 November
7.30 to 8.30pm
£12, £10 Friends & Concs. (per lecture)
Join Art Historian Richard Stemp for two lectures exploring Escher's artistic
inspirations with particular attention to the unique architectural visions
found in his work.
Escher Symposium
Saturday 31 October
10am – 4pm
£40
Enjoy an insightful and stimulating day of thought and debate from a panel
of Escher experts and enthusiasts exploring his life, work and influences.
Speakers will include mathematician and physicist Roger Penrose and Micky
Piller, curator at the Het Paleis which houses Escher's work.
Family Event
Shadow Puppet Theatre: Escher's Tales from Italy
Sunday, 1 November
Tap into your imagination and create your own portable puppet show!
Take inspiration from M. C. Escher's work and travels to compose your own
fantastical story filled with a unique cast of characters.
15-18 yrs: M. C. Escher: Drawing in Monochrome
Five Tuesdays from 10 November to 8 December
4.30 – 6pm
£60
Learn about tonal ranges using white and black mediums, such as pencil,
charcoal, and ink to create realistic drawings inspired Escher. Working from
still life as well as paintings in the collection you will create Escher–like
compositions. At the end of this course you will have gained an understanding
of traditional drawing mediums and techniques. With artist Liz Charsley–Jory
11 – 14 Yrs: Tessellate like Escher
Five Thursdays from 12 November to 10 December
4.30 – 6pm
£60
Explore pattern making while broadening your experience with a wide range
of materials, including coloured pen, paint and paper folding. Learn about
tessellations, shapes that are repeated over and over again without any gaps
or overlaps, and create fantastical drawings inspired by The Amazing World
of M. C. Escher. Throughout this course you will experiment with 2D surfaces
and learn how to transfer your drawings into unique 3D designs, bringing
your tessellations to life. With artist Jo Lewis.
7 – 10 Yrs: Repeat: Pattern Making
Five Wednesdays from 11 November to 9 December
4.30 – 6pm
£60
Design and create glazed ceramic tiles adorned with geometric patterns. Take
inspiration from M. C. Escher's amazing drawings to create your own unique
patterns through drawing, lino cutting and relief printing on paper. At the end
of this course you will have completed your own collection of prints and a
ceramic tile. You will have also leaned techniques for creating imaginative and
geometric patterns that can be used again and again. With artist Jo Veevers.
Booking details:
Book online at www.dulwichpicturegallery.org.uk
Or by phone on 020 8299 8732