Dulwich Picture Gallery enfilade undergoes dramatic transformation for exhibition focusing on works by Murillo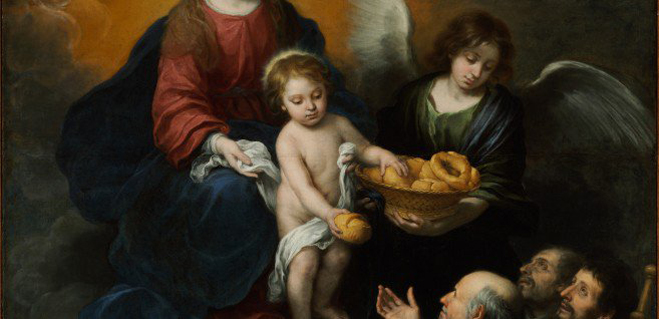 Dulwich Picture Gallery is excited to announce that its famous enfilade will be transformed to evoke a Sevillian church for its forthcoming exhibition Murillo & Justino de Neve: The Art of Friendship (6 February – 19 May 2013).  In a first for the Gallery, part of the permanent collection will be deinstalled and the enfilade will undergo a period of construction to transform the Gallery's famous space.  Murillo's works will be hung as they were originally intended to be seen; the painter's three large-scale lunettes, The Dream of the Patrician and his Wife, Faith or the Church Triumphant and The Immaculate Conception (all 1664-65), will be at height and inserted into fictive niches.  At the end of the enfilade, forming the 'high altar', Murillo's The Immaculate Conception of the Venerables Sacerdotes (1660-65) will be hung, reunited with its ornate baroque altar-frame for the first time.  This major exhibition will also be accompanied by a special display featuring newly conserved works by Murillo, funded by the Bank of America Merrill Lynch Art Conservation Project.
The exhibition will focus on the 17th century Spanish Baroque painter's relationship with his patron and friend, Don Justino de Neve, a canon of Seville Cathedral, bringing together nearly all of the paintings Murillo made for Neve. These range from large altarpieces to works for his private collection, including Dulwich Picture Gallery's celebrated 'Spring' (?) as a Flower Girl (1665-70).  Also on display will be the newly-discovered Penitent Saint Peter (c. 1670), which has never before been seen in public, as well asThe Baptism of Christ (1667-68), taken down from its high position in Seville Cathedral for the first time since it was installed by Neve in 1667.
To coincide with this major show, the Gallery will present 'Murillo at Dulwich Picture Gallery', a special display of its own distinguished collection of Murillo paintings. At the heart of this will be the presentation of the Gallery's famous beggar boy paintings, Invitation to a Game of Argolla (1665-70) andThree Boys (c. 1670).  Both these paintings have undergone extensive restoration as part of the Bank of America Merrill Lynch Art Conservation Project, which provides grants to organisations throughout the world to conserve historically or culturally significant works of art that are in danger of degeneration.  Technical examination and X-radiography has revealed fascinating information on Murillo's working method. The results of these new findings, including the X-radiography of 'Spring' (?) as a Flower Girl, will be presented in this display.
Conservation work on 'Spring' (?) as a Flower Girl revealed the bottom half of an Immaculate Conception underneath, demonstrating how Murillo re-used his canvases, something not previously known about.  The same depiction of the three angels seen on the X-ray appears in the bottom half of Murillo's well-known Immaculate Conception of El Escorial (c. 1665) suggesting the Flower Girl's canvas was originally a version of that painting, which he recycled.
Xavier Bray, Arturo and Holly Melosi Chief Curator at Dulwich Picture Gallery said: "This has allowed a more definitive dating of the work 'Spring' (?) as a Flower Girl suggesting it is most probably post 1665 and thus making it likely that the subject is in fact his daughter posing, prior to entering a convent in 1671, who would have been a young teenager in that period.
X-radiography of Three Boys reveals how Murillo uncharacteristically changed his mind during painting, providing a contrast to the carefully delineated composition of Invitation to a Game of Argolla, more typical of Murillo's methodology. Murillo moved the position of the ceramic jug from behind a basket to the front of the composition. More significant are the changes made to the face of the smiling boy which subtly alter the dynamics of the narrative. The X-radiograph reveals a mocking facial expression and instead of groping at the standing boy's pocket, the subject defiantly pulls the boy's hand away from the pie.
Close examination showed that the canvas of Invitation to a Game of Argolla contains prick marks all along its edge, suggesting that the canvas at one time had been squared-up for copies and tapestry cartoons.  Such a tapestry was identified in Spain, thought to be 17th century Flemish, which can also be seen in the display.  A portion of wallpaper from the 19th century also depicting this image will be on display, demonstrating how the advent of mass production industries allowed a new means of meeting the growing taste for Victorian sentimentality perceived in Murillo's work.  Murillo's depictions of beggar boys have always been among the most popular subjects he painted. One of Thomas Gainsborough's most celebrated 'fancy pictures' The Cottage Girl (National Gallery of Ireland), also featured as part of the special display, is an example of a work that was certainly inspired by Murillo.
Through the Gallery's 'Adopt an Old Master' programme the oil sketch The Adoration of the Magi (1660-65) can also now officially be reattributed to Murillo. It was previously catalogued as being 'after Murillo' but, following the removal of layers of varnish and old restoration done in the 19th century, Murillo's energetic and spontaneous brushwork is revealed.
Rena DeSisto, International CSR and Global Arts and Culture Executive at Bank of America Merrill Lynch said: "At a time when there is a growing need for art conservation as museums face increased costs of keeping their treasures in top condition, we are honoured to be in a position to help the Dulwich Picture Gallery. The fascinating discoveries through the conservation of Murillo's work highlight the importance of preserving precious works of art so that future generations may also enjoy and learn from them."
The exhibition 'Murillo & Justino de Neve: The Art of Friendship' is a collaboration with the Museo del Prado, Madrid, where it was shown between 26 June – 30 September 2012, and the Fundacion Focus Abengoa, Seville, where it is currently until 20 January 2013. The Madrid and Seville versions of the exhibition were curated by Dr. Gabriele Finaldi, Deputy Director, Museo del Prado, while the Dulwich exhibition is curated by Dr. Xavier Bray, Arturo and Holly Melosi Chief Curator at Dulwich Picture Gallery.
A catalogue accompanies the exhibition, edited by Gabriele Finaldi. There will also be a book on 'Murillo at Dulwich Picture Gallery' by Dr. Xavier Bray. 'Murillo & Justino de Neve: The Art of Friendship' is the third in The Melosi Series: Rediscovering Old Masters following 'Salvator Rosa: Bandits, Wilderness and Magic' in 2010 and 'Van Dyck in Sicily 1624-25: Painting and the Plague' in 2012.
The series has been realised thanks to a grant from the American Friends of Dulwich Picture Gallery Inc., made possible through the generosity of The Arthur and Holly Magill Foundation.
****Please note the Gallery, Cafe and Shop will be closed 14 – 24 January in preparation for the opening of Murillo & Justino de Neve: The Art of Friendship. They will reopen to the public on 25 January.****
The exhibition will run concurrently with 'Murillo at the Wallace Collection', 6 February – 12 May 2013.
-Ends
Press View, Tuesday 5 February 2013, 2 – 5pm
Listings Info
Murillo & Justino de Neve: The Art of Friendship
6 February – 19 May 2013
Exhibition Events
Exhibition Lecture: Thursday 7 February, 12.30 – 1.30pm
Late Night Opening: Thursday 16 May, 5 – 9pm
Tickets (pre-book online):
Guided ticket £13* (includes an audiovisual guide)
Full Price £11*
Senior Citizens £9*Unemployed, disabled, students £6*
Children and Friends Free
*Indicates price without gift-aid
Exhibition Events
Curator's Lecture
Thursday 7 February, 12.30pm – 1.30pm
A detailed introduction to the exhibition from Dr. Xavier Bray, Arturo and Holly Melosi Chief Curator
£10 (£8 Friends)
In the Gallery series – Murillo: painter of angels and street urchins
Thursday 21 February, 7 for 7.30pm, Linbury Room
Dr. Xavier Bray reveals the importance of the discoveries from recent conservation work on The Three Boys, 'Spring' (?) as a Flower Girl and other paintings
£10 (£8 Friends), includes a glass of wine
Gallery Music – Murillo and Music of his Time
Wednesday 27 February, 7pm, Gallery
A talk by Dr. Xavier Bray, the exhibition curator, will be followed by a concert in Christ's Chapel of Spanish music of Murillo's time, with the Choir of Royal Holloway College
£20, (£18 Friends), includes a glass of wine
Murillo & Justino de Neve Late View
Thursday 16 May, 5-9pm
Come and enjoy the exhibition and a glass of wine during a Late Night viewing.
Standard exhibition ticket prices apply.  Ticket price does not include wine.
Race and Culture in Murillo's Seville
A fascinating lecture by Dr. Luis Méndez from the University of Seville on the portrayal of black people in 17th century Spanish painting including Murillo's Three Boys.  Please check http://londres.cervantes.esfor further details and booking
Community Engagement – Good Times: Art For Older People
Working with Salmagundi Films participants from Stepney Jewish Community Care Centre will create 3 short stop-animation films over a series of sessions, to be screened at the Murillo exhibition Late View and other screenings at various other locations.
Notes to Editors
About Bank of America Merrill Lynch and the Arts
Developing substantive solutions for social and environmental challenges is at the core of Bank of America Merrill Lynch's mission, and the arts and culture platform is a key component of the company's integrated corporate responsibility strategy.
Bank of America Merrill Lynch helps a broad spectrum of arts programmes thrive, encompassing sponsorships, community grants and loans to museums from the company's own art collection. The Bank of America Merrill Lynch Art Conservation Project provides grants for the restoration of paintings, sculptures, archaeological or architectural pieces that are significant to the cultural heritage of a country or region or important to the history of art in order to preserve them for future generations.
Recent and upcoming sponsorships include, Americans in Florence: Sargent and the American Impressionists at the Palazzo Strozzi, Florence (March – July 2012), Jeff Koons: The Painter & The Sculptor at Schirn Kunsthalle and the Liebieghaus Skulpturensammlung, Frankfurt (June – September 2012) and Roy Lichtenstein at Tate Modern, London, opening in February 2013. The company is Season Sponsor of the Old Vic Theatre in London, as well as Global Sponsor of the Chicago Symphony Orchestra, which travelled to Russia and Italy last year.
Through the company's Art in Our Communities® programme, the Bank of America Collection has been converted into a unique community resource. The collection has grown in size and scope in recent decades with artworks from numerous legacy institutions, and offers museums and non-profit galleries the opportunity to borrow complete or customised exhibitions at no cost. This helps to secure vital revenue for those institutions that may lack sufficient resources to fully curate and manage exhibitions on their own, and also guarantees that the collection is shared with as wide an audience as possible. Since its launch in late 2008, more than 50 exhibitions have been loaned to museums around the world. Shows in 2012 included Conversations at the Irish Museum of Modern Art (IMMA) in Dublin, Shared Space, part of PhotoEspaña 2012, at the Real Jardín Botánico in Madrid (June – July 2012), Andy Warhol: The Portfolios at the Dulwich Picture Gallery, London (June – September 2012) travelling to the Museo del Novecento in Milan in April 2013, and Gaze: The Changing Face of Portrait Photography, at Istanbul Modern Museum (October 2012 – January 2013). Learn more at www.bankofamerica.com/opportunity and follow us on Twitter at @BofA_Community.
For more Bank of America news, visit the Bank of America newsroom.