Summer of Free Friday Lates announced in Dulwich Pavilion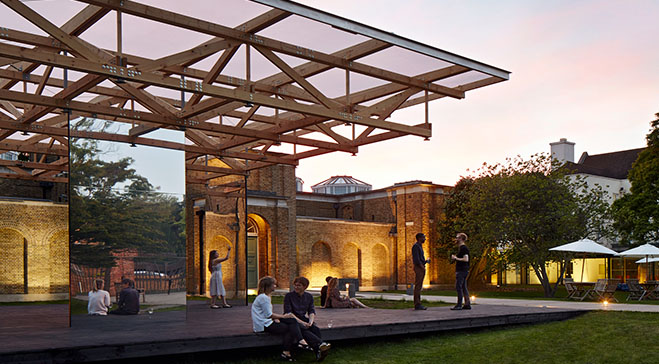 Dulwich Picture Gallery will celebrate 200 years since it first opened to the public with a summer of free Friday Lates centred around its new pavilion. The themed evenings will include performance, talks, and music, bringing together a variety of experts from across the art and design world.  Visitors can also relax and unwind in the pavilion bar with food and drink provided by The Camberwell Arms.

To mark the bicentenary of the Gallery, which was the first in the UK designed for public access to art, visitors can also enjoy free entry to the Permanent Collection every Friday from 6 – 10pm.

The Dulwich Pavilion, designed by emerging South London-based architects, IF_DO, features a series of mirrored screens, reflecting the Gallery's iconic architecture and surrounding gardens. It will be free for all to explore throughout the summer and will open late on Fridays throughout June and July with a different line-up of cultural activities each week.

The Pavilion Bar, which will be open throughout the weekend, will offer a special drinks menu including classic cocktails with a twist. It will also serve a variety of small plates devised by Mike Davies, Head Chef at the Camberwell Arms.

Jenna Mason, Public Programme Producer, said:

"The Dulwich Pavilion is the ideal setting to get your culture and cocktail fix this summer – and we're opening after hours on Fridays to provide the perfect start the weekend. The Pavilion's moveable panels have allowed us to programme a range of immersive activities and thought-provoking debate from experts in the field of art and design.  We'll also be bringing events into the inspiring setting of the Permanent Collection where visitors will see the old masters in a whole new way – and hopefully leave with their curiosity fed!"

The Dulwich Pavilion has been developed in partnership with the London Festival of Architecture and Almacantar with additional support from Arts Council England. 

The Lates programme is generously supported by Ingrid Beazley 
-Ends
Notes to editors

Media Enquiries:
Contact
Louisa Bee
l.bee@dulwichpicturegallery.org.uk
020 8299 8710

General Pavilion opening hours:
Tues – Thurs, 12 – 5pm
Fri, 10am – 10pm
Saturday, 10am – 5pm
Sunday, 10am – 9pm

Pavilion bar opening times:
Thurs, 4pm – 11pm*
Fri, 4pm – 11pm
Saturday, 12pm – 5pm
Sunday, 12pm – 9pm

*excluding some Thursdays. Please check the website for more details.


Free Friday Lates: listings

Women's Lives Made Art
Friday 2 June, 6-10pm, Free
To mark the closing weekend of Vanessa Bell and Patti Smith, grab a drink and explore the many ways that women's art has reflected, revealed and politicised their private lives and experiences. Enjoy discussion from leading curators and art historians and drop-in photography workshops with fine art photographer, Francesca Centioni. Also joining us is London's very own SHE Choir, who will be in the Gallery grounds performing their original arrangements of pop, rock, R&B and more. 
Baroque Mash-Up
Friday 9 June, 6-10pm, Free

For this contemporary reimagining of the Old Masters in our Collection, we'll be interpreting Baroque in new ways through music, art and entertainment. Take an alternative tour of the Gallery's Permanent Collection and join musicians Benjamin Tassie and Liam Byrne in the pavilion for an experimental Baroque remix. Benjamin Tassie is a multi-award-winning composer of electronic and acoustic music. Liam Byrne divides his time between playing very old and very new music on the viol. Liam has worked with a wide variety of artists including Damon Albarn, Bryce Dessner (The National) and Richard Reed Parry (Arcade Fire).
Space/Places/People
Friday 16 June, 6-10pm, Free

In partnership with the London Festival of Architecture join us to explore how memory of people, buildings, places and experiences impacts and influences architecture. Author and editor of the Architectural Review, Tom Wilkinson, will be discussing the powerful and intimate relationship between architecture and society. Courtesy of the BFI, join us for a special screening of The Changing Face of Camberwell (1963) and discover how the local area has evolved through the years, capturing a time when Victorian blocks were being demolished in favour of new towers. You'll also have the chance to discover more about IF_DO, the architects behind the Dulwich Pavilion, and their response to the original Gallery building.
Choreographing the Collection
Friday 23 June and Friday 14 July, 6-10pm, Free
Join us for a danced tour of Dulwich Picture Gallery, retracing the footsteps of the millions of visitors who have crossed our threshold over 200 years. With dancers as your guides, writing by Anna Selby and original music by Max Perryment, this playful promenade performance will introduce you to the world of our collection in a new way. Created by choreographer Katie Green in collaboration with curator, Helen Hillyard. Designed by Kate McStraw.
The Private Made Public
Friday 30 June, 6-10pm, Free
Delve into the Gallery's founding idea: art for the public. To mark 200 years of visitors join us for an evening exploring this seismic cultural shift – the opening of England's first purpose-built public art gallery. Experience private music-making in a whole new way with a performance by viola da gamba player Liam Byrne who will perform to one person at a time - a chance to experience public performance in a uniquely intimate way. We'll also be joined by Jennifer Scott, Sackler Director of Dulwich Picture Gallery and renowned art historians for a lively discussion on the founders' vision.
Sargent: Wanderlust
Friday 21 July, 6-10pm, Free

Sargent's travels will be brought to life through Art Macabre's immersive drawing salons, where costumed models will evoke Sargent's international travels with theatricality and curiosity. Award-winning storyteller Giles Abbott will also be roaming the Gallery gardens telling tales of adventure and explorations and conjuring pictures in your mind inspired by the watercolours of Sargent.
Bloom
Friday 28 July, 6-10pm, Free

Enjoy the Gallery gardens by twilight, as we take inspiration from the collection's rich floral works for this botanical themed evening. Come prepared for flower workshops, infused cocktails and plenty of green-fingered creativity. Courtesy of Flower Show Presents, you'll have the chance to make and adorn yourself with floral designs inspired by Jan van Huysum's Vase with Flowers (1715). With drop-in workshops taking place throughout the evening, you'll be able to get creative with wild and rustic foliage and dusty summer colours.

About the Dulwich Pavilion
Dulwich Picture Gallery and the London Festival of Architecture launched the pavilion design competition in autumn 2016, inviting emerging architects to create a temporary building that could host a variety of events with an associated bar/café facility. In celebration of the Gallery's bicentenary year, entrants were challenged to design a contemporary response to both the original Soane building and its garden setting, whilst working with a modest construction budget of under £100,000. 

Bermondsey-based practice, IF_DO, established in 2014 by Al Scott, Sarah Castle and Thomas Bryans won the competition for their design 'After Image'. It was chosen by a judging panel of leading architectural figures including Ruth Rogers (chef and founder, River Café), Carl Turner (Founder and Director, Carl Turner Architects) and Nancy Durrant (Arts Commissioning Editor, The Times).
The design responds to the solidity and monolithic nature of Soane's gallery building, and the porous, ever-changing nature of the landscape. A series of translucent mirrored screens – some fixed, some moveable – reflect and disrupt the context. The lightweight structure also features a timber truss roof overlaid with a mesh veil to create a canopy-like environment that enhances the layering of images and the interplay of space, perception and memory. 
About Dulwich Picture Gallery
Dulwich Picture Gallery is the world's first purpose built public gallery, and this year celebrates 200 years since it first opened to the public. The Dulwich Pavilion will be a transformative project for the Gallery, allowing it to overcome a lack of existing space and meet the demand of an increasing number of visitors. It will stage an ambitious celebratory programme of exhibitions, events, lectures and learning activities. The Dulwich Pavilion will be at the heart of the Gallery's bicentenary celebrations, and will help the Gallery attract new audiences and work
towards a sustainable future thanks to new revenue streams.